An article on how to reset your Serving Alcohol password yourself.
Get back to your account from our home page at ServingAlcohol.com.
Click the Sign In button at the top of the page (see picture below).
Enter your login information. Use all small case letters with no spaces between the characters.
You can reset your password easily
From the Sign In page, click on Forgot your password? or use this link: password.servingalcohol.com.
Next, fill in your email address. It MUST be the same email address you used to register for the course.
Then click the Reset My Password button.
You will receive a new password in your email inbox. Allow up to 5 minutes for the new password to appear or refresh the email webpage. ​
We keep the new password very short and simple. It will be 5 to 8 characters. It's best to copy and paste into the Sign In web page again.
Note: the password uses all small case characters and is case sensitive. There will be no capital letters.
If it does not show in your email inbox, check your spam or junk folder. Some email providers will filter out anything concerning the word "alcohol".
If you registered your email with a misspelling (no worries, it happens), then it won't email back to you with an updated password.
If the email with the new password is not in your email inbox, send us a quick message from our Contact Us web portal here:  Contact Us
If you use Gmail, take advantage of the Google Sign In button instead. No need to remember or reset your password with us.
Use your Gmail password instead. (If you don't remember your Gmail or Google password, this option might not be right for you).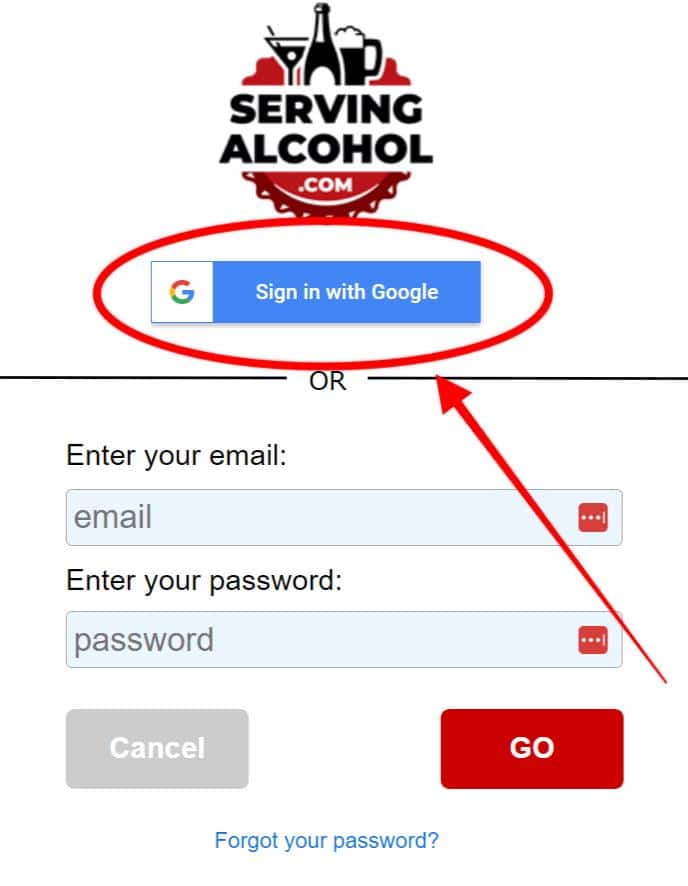 After login, click on the name of your course in dark red. You'll be at the start of your course. The course will remember if you leave and come back. Every time you log in, it will remember where you had last left it.
If are still having trouble, just reply to this email or use our Contact Us web portal.