New Jersey Bartender License
New Jersey

Alcohol Server Certificate
On-Premise & Off-Premise
New Jersey Alcohol Server Certificate
For 35 years, our New Jersey alcohol server certification training has offered the most recommended and reputable course for bartenders, wait staff, or managers of restaurants, bars, or nightclubs as well as liquor stores. The alcohol training course follows the rules and regulations set by the New Jersey Division of Alcoholic Beverage Control.  This New Jersey bartender license and alcohol server certification covers for both on-premise and off-premise situations. Many servers and bartenders know our alcohol certification as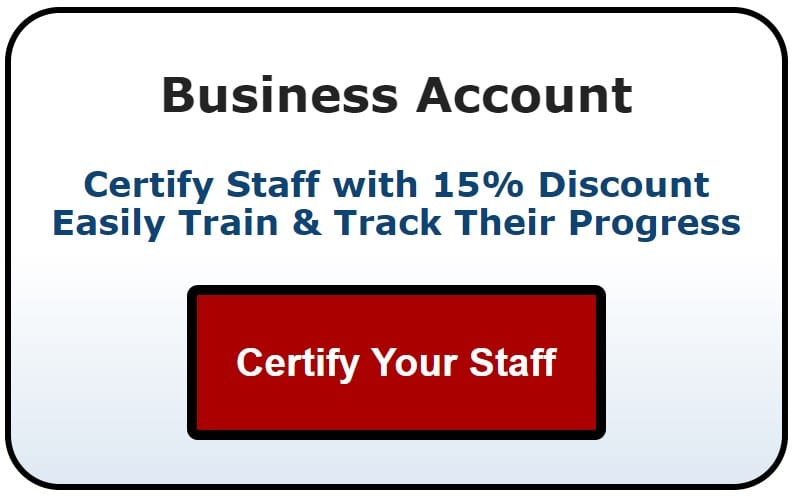 the New Jersey bartender license.
Advantages to our online course:
Easily complete at your own pace
Login and out of course as many times as needed to complete
Up to 6 months to complete your course
Only 70% to pass and get your certificate
Retake final exam until pass if needed FREE
Immediately download & email your certificate for FREE
Since 1985, we have alcohol certified tens of thousands of individuals and businesses. This course is created by former bar and restaurant managers, bartenders, and servers. Free certificate and wallet card given immediately after completion. We cover topics in our New Jersey bartender course about
how old you need to be to become a bartender
and how to get your
bartender license
. For reference, we have a web page dedicated to some helpful
bartender career statistics
in the US. For general information on obtaining a 
bartending license
 (not specific to any state), see our
Ultimate Guide to Getting a Bartending License
.
TIPS Certification, ServSafe and Serving Alcohol
You probably heard of all three of these responsible alcohol server and seller training courses. It's important to note that TIPS certification, ServSafe, and Serving Alcohol are not a "type" of training certification. Instead, all three are "brands" of responsible alcohol training recommended by most employers and businesses.Think of how some people will ask for a Kleenex instead of a tissue. Kleenex is a tissue brand, not a type of tissue.
Employers often tell you to get your New Jersey TIPS certification or ServSafe certification. You are not locked into taking any one of these specific training providers. You can choose which alcohol seller/server training course you want. Just like how you can buy the various brands of tissue at the store.
For over 35 years, Serving Alcohol has trained hundreds of thousands of people, their employers and businesses. Many state alcoholic beverage control commissions prefer Serving Alcohol training for businesses and their staff members. Serving Alcohol only provides alcohol training courses in the states like New Jersey that we are authorized on the state level, local level, or by liability insurance carriers. This course addresses the New Jersey service of alcohol laws, regulations and rules. Feel free to ask us more about the differences and similarities through our Contact Us page. But, to be sure, you can choose any of the three training courses to accommodate your employer's request for alcohol seller/server certification.
Recommended & Recognized by Insurance Carriers
Our courses are recommended and endorsed by liability insurance carriers. Most liability insurance carriers for alcohol serving establishments (restaurants, bars, taverns, and nightclubs) require all employees to hold an alcohol certification. Therefore, they will need your staff to remain current with New Jersey rules, regulations, and laws, in regards to the service of alcohol. As a result, more businesses are requiring our New Jersey alcohol server certification as a condition of employment.
Quick & Easy to Get Certified Today
Our New Jersey Alcohol Seller Server Course is simple to enroll in and easy to take. Begin it in one sitting or leave and come back to the course as many times as needed. Select your course, click Enroll Now, complete the course, and print your certificate. Need to be compliant in a hurry? Your New Jersey Alcohol Seller Server Course certificate is available to you immediately upon completion as an emailed PDF file. Complete it tonight and email to your manager before going to work tomorrow.
Use Computer, Tablet, or Cell Phone
Our New Jersey Alcohol Seller Server Course is responsive. Take it on a computer, laptop, tablet, cellphone, on the go or while you sit at home. Now training can be done on your terms.
Completion 100% Guaranteed
We give you multiple chances to take the course. Busy? Multi-tasking? No worries. Come back until you get it completed, guaranteed.
Professional Experience
Serving Alcohol, Inc. has over 35 years of experience in teaching alcohol awareness, intervention techniques, server duties, carding procedures, and state laws. Our New Jersey bartender license and alcohol server course will teach you:
How to protect yourself and establishment from liability
How alcohol affects your customers
How to recognize the effects of alcohol on your customers
How to prevent customers from becoming overly intoxicated
How to intervene when you need to refuse a sale
How to avoid and deal with disturbances
How to accurately check IDs and recognize minors with fake IDs
How to prevent second-party transactions
How to react with authorities when a problem arises
ANSI-accredited online
Food Handler Training course
New Jersey Food Handler Card
Only $9.95

List Price:
$15.00

New Jersey Responsible Alcohol Service
Frequently Asked Questions