One of the terms you will encounter as a beginner bartender is mixology. Not to be confused with bartending, mixology is the art of preparing mixed drinks, also commonly known as cocktails. As a bartender, you can hone your skill in crafting cocktails by taking a mixology class.
What's the Difference Between a Bartender and a Mixologist?
The terms bartender and mixologist are often used interchangeably but despite the skill overlap in both roles, they are actually two different things. Not all bartenders are mixologists while mixologists may sometimes work as bartenders.
It's easier to make the distinction when you think of mixologists as cocktail specialists. Mixologists have extensive drink knowledge and are always looking to create new drink recipes that will bring bar experience to the next level. Their focus is on the art of preparing and inventing cocktails, using their in-depth understanding of flavor profiles and ingredients to craft unique, palate-pleasing cocktail recipes. They often use flair bartending techniques to offer an experience while drinking.
On the other hand, bartenders may or may not have specialized mixology skills. They may be trained in basic mixology and know how to concoct classic cocktails. Although mixing drinks make up the bulk of a bartender's work, it's not their only responsibility. They also have to take orders, check IDs, keep inventory, manage patrons' drinking limits, and serve the customers.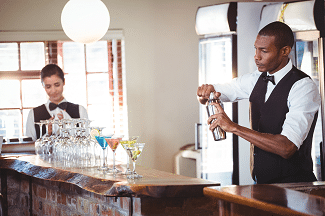 Mixologists may devote some time working behind the bar as bartenders or bar managers but they can choose to work in the background, allocating their time to their craft. Additionally, they may also work as consultants and help develop cocktail menus where drinks are served.
What Skills do you Need to Become a Mixologist?
Strong communication skills

A natural curiosity for creating new drink recipes

A culinary approach to cocktail making

A wide repertoire of slicing techniques

Patience for testing new flavors and ingredients

Ability to develop bar menus using an extensive understanding of flavor profiles
How to Become a Mixologist?
There are two practical approaches to being well-versed in the culinary art of cocktail making. You can either work as a bartending apprentice and learn from a professional mixologist first-hand or enroll in a mixology class and get your own mixology certification.
By working as a barback, you learn by doing. You familiarize yourself with the day-to-day realities of working behind the bar. By all measures, it's the most practical approach to learning the ropes. However, it's not a guarantee that you will be working with a mixologist unless you already know them beforehand and have decided to apply.
What do you Learn in a Mixology Class Online?
Whether you want to learn mixology to further your career or simply want to impress your friends, you can be sure that learning mixology is a step in the right direction.
A professional mixology course will introduce you to:
Cocktail making and its rich history

Basic principles of cocktail mixing

The uses of ingredients

Preparing garnishes

Slicing techniques

Preparing concoctions by developing one's palate
Keep in mind that each mixology class is different and may cater to a different kind of audience. There are mixology classes for more casual learners and there are advanced mixology training programs reserved for those who are looking to deepen their knowledge and technical skills.
What are the Benefits of Getting a Mixology Certification?
Regardless of which kind of learner you are, earning your own mixology certification is certainly going to earn you some bragging rights. Here are some solid reasons why you should take a mixology class:
Knowing about drink history gives you credible talking points when entertaining patrons

You learn how to do things right

It helps you avoid picking up bad bartending habits

You learn how to operate basic tools and equipment

It looks good on your resume especially if you're applying as a beginner bartender in a competitive market
All the practical benefits aside, learning mixology is fun and exciting. If you're looking to go pro with your bartending skills, check out beginner or advanced mixology classes online or in person today.