There is a lot of confusion concerning the recent changes to California liquor laws and alcohol certification. As of 2022, California has changed its rules concerning alcohol certification. Previously, some communities required it, but many did not. In 2017, the state started to compile information and make a unified consensus on its alcohol training requirements and standards. As of September 2022, new laws have taken effect, requiring everyone within the state who serves alcoholic beverages to be certified by the California Alcoholic Beverage Control.
Under the state's Responsible Beverage Service (RBS) Training Program, the program initiated its new alcohol certification program. Anyone who serves alcoholic beverages, like a bartender, server, manager, owner, or security guard who checks IDs, must be officially California RBS certified. They must take a state-approved RBS training course like Serving Alcohol's California RBS Certification. When that course is completed, this information is passed over to the California Alcoholic Beverage Control. That person takes the final exam on the State of California Responsible Beverage Service Portal. Only California-approved training providers such as Serving Alcohol are allowed to administer an RBS training course, which allows individuals to take the California state final exam to be RBS certified.
Let's review some frequently asked questions.
How Do I Get My California RBS Certification
That part is simple. Take our California RBS training course. It's easy and affordable. It can be quickly completed within the day. If needed, our USA-based support is available to answer any questions. Follow these 3 simple steps:
How To Get RBS Certification 
Register to get your RBS Server ID in the state's RBS portal 

(includes managers of alcohol servers)

.
Take our California RBS Training course online in English or Spanish.
Take the final exam in your RBS account after completing the course
How Do I Get My RBS Certificate
After completing and passing the final exam in your RBS account, your Server ID is now your official proof of California RBS certification. They will not issue a physical or paper certificate, and no approved training providers are allowed to issue a certificate either. When your employer asks if you are California RBS certified, give them your last name and the 9-digit Server ID from your California RBS account. In turn, they can verify if you are certified within their RBS account.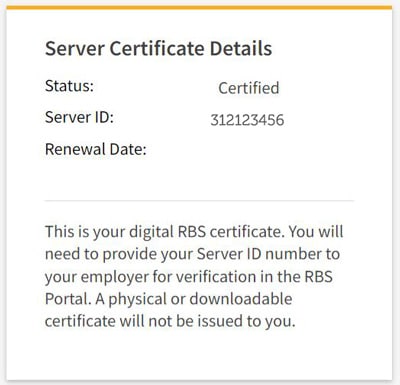 Is A California Certificate From A Training Provider Valid By California ABC
No. A live or online training provider can provide a California certificate. But, only the California Alcoholic Beverage Control can provide your official state-approved RBS certification. Here is the grey area some training providers use. They can give you a certificate stating you completed their RBS training course (not the state certification) for a business insurance policy. However, all employers who serve alcoholic beverages must verify your official RBS certification only from the California Alcoholic Beverage Control  RBS portal. A paper certificate from any online or live training provider is not valid as a state-approved California alcohol certification. According to the California ABC, the "ABC is not issuing physical or downloadable RBS certificates. Once you complete training and pass your ABC Alcohol Server Certification Exam, your status on your RBS Server dashboard will be updated to Certified. Your Server ID number and status are located in the Server Certificate Details box within your RBS Server dashboard."
Does My RBS Certificate Stay With Me Or My Employer
When you are certified by the state of California, under your RBS Server ID, your certificate is yours to keep or use with your next employer. Even if your last employer had paid for your RBS training, your RBS certificate is yours and travels with you.
How Long Is My RBS Certification Valid
It's valid for 3 years from the date you passed the final exam in your RBS account. After 3 years, if you are continuing to serve alcoholic beverages, by state law, you must be certified for another 3 years.
Can I Serve Alcohol Or Beer Without A RBS Certificate
No, you cannot. You will not need to be RBS certified immediately upon hiring by an employer. But, you must be RBS certified within 60 days of the hire date. Otherwise, you may not be in compliance with the California Alcoholic Beverage Control as a server, bartender, owner, manager, or security guard who checks IDs in an alcohol-serving establishment.
See our frequently asked questions about California RBS training and the final exam if you have more questions.
When you are ready, select Enroll Now from our website on California RBS Certification and be certified today.