New California alcohol training mandate! What should I do? Don't worry we are here to help. Every person who sells or serves alcohol must go through an updated and certified Responsible Beverage Service (RBS) training provider. This mandate will become mandatory on July 1st 2022. Here are the steps:
California RBS Portal Registration
Go to the

RBS Portal

Click LOG IN / REGISTER Button

Enter valid email

Create Password

Validate Password

Enter Legal First and Last Name

Click Register

Excellent, you're done registering for the Official California RBS Portal, next:
Go to your Email Account

Find Registration email

Click link to login into RBS Portal
Congratulations! You are now registered and halfway done through the process. Keep going! Next, is the server application.
California RBS Server Application
Go to the

RBS Portal

Click the Login Button

Enter your email and password used to create your account

Select "Server Application"

Fill out the server application completely

Pay the $3.00 registration fee

"Attest and Submit" the Server Application

Navigate to "Server Dashboard"
Search for Serving Alcohol's Training Course from RBS Portal
Ok, you've paid the 3 dollar state fee and are ready to look for a certified provider. We got you covered! Search for our certified Serving Alcohol Training course:
From the "Server Dashboard"

Go to

Training Provider Search

on right side of the server dashboard

Enter Serving Alcohol

Select "Training Provider Information"

Click on our

California Responsible Beverage Service (RBS) Course
You can also access the training from our system by selecting Enroll Now on the California Responsible Beverage Service (RBS) training webpage. Go here.
RBS Training Provider Portal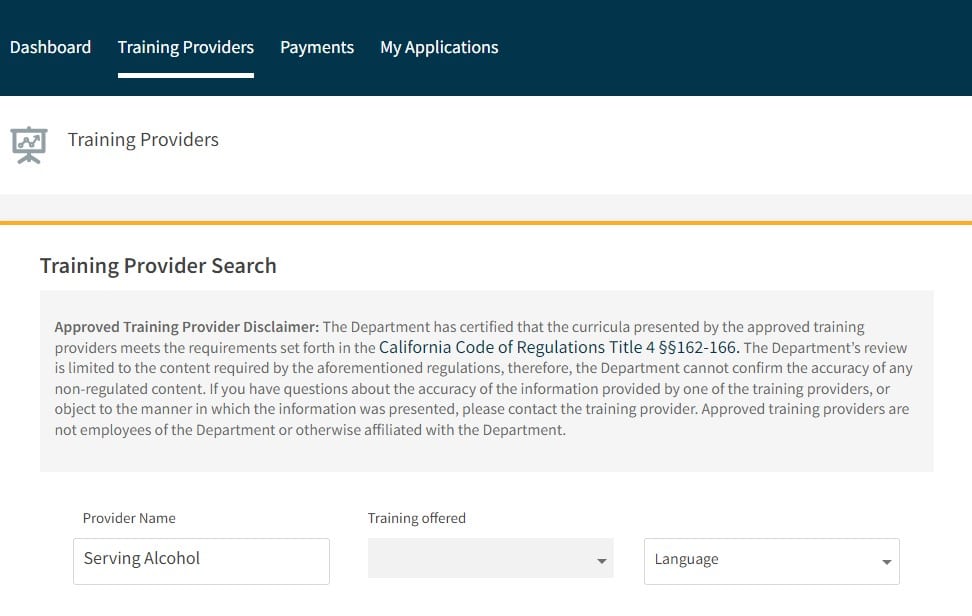 Serving Alcohol California Training Course
Take California RBS Certification Exam
Once you've completed Serving Alcohol's training, you are now ready for California's alcohol server certification exam. You must complete your course first, or the California ABC will not allow you to take the final exam.

Log into the

RBS Portal

with your email and password created previously.

Go to your Dashboard (top left)

Click the "Take Exam" button

Select English or Spanish

Good luck! The exam is open notes and open book

70% is required to pass the exam. You have three attempts and 30 days to take the exam

**Please note: To unlock your RBS Exam on the ABC website, you will need to ensure you are giving the training provider your correct server ID.
There are two ways you can locate your server ID number. The first is through the message center (top right) via the RBS Portal.

To access the message, click on the envelope icon, the message will be titled Enrollment Registration Completed.

The second way you can view your Server ID number is on your "Dashboard"; it will be in the first box with your "Server Details."