California Responsible Beverage Service Training
California RBS Training Certification

California Bartending License
RBS Training California
The state of California requires all on-premises alcoholic beverage servers and their managers to successfully complete an ABC-approved California Responsible Beverage Service Training program and exam.  As of 2022, our California RBS training certification course is approved by the California Alcoholic Beverage Control for RBS training California. It is the most recommended authorized California bartending license certification course online among the list of RBS training program providers. Since 2012, we have been a state approved Responsible Beverage Service training provider teaching California alcohol laws backed by over 35 years of experience.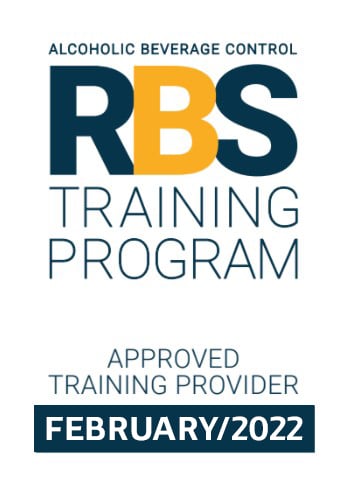 How to get your California Responsible Beverage Service Training
We easily guide you on how to become a bartender in California with our self-paced course. Start now and easily get RBS training certified. As an authorized RBS training provider, our California RBS training provider number is 312655125.
What is RBS certification?
RBS stands for Responsible Beverage Service. Many states have adopted their own responsible training certification programs. As of 2022, California ABC requires anyone who serves alcohol to be California ABC RBS certified. Previously, California had not required alcohol certification and to know California liquor laws. That has changed as of July 1st, 2022. After you complete our course today, your California RBS portal account will allow you to take the ABC RBS exam to complete your state certification. By taking our course, you'll be able to easily get all the RBS training program answers correct on the exam and get your CA alcohol certification today.
How do I get RBS training certified?
Register with California ABC on their RBS website as an alcohol server (this includes the managers of alcohol servers). Take an ABC approved training provider RBS training course. Lastly, after completing our course, take the final exam in your RBS account on the state's website.
How long does it take to get RBS Certification?
Our online California RBS training online course is self-paced. For most people, the course along with the ABC RBS exam takes approximately one to two hours to complete.
ABC Certification or RBS Certification?
The two terms are really one in the same. The state of California has a department called the Alcoholic Beverage Control or California ABC. The new program is called Responsible Beverage Service certification or RBS certification. So, RBS training certification is often referred to as ABC certification.
Is RBS training required in California?
Yes. As of July 1st, 2022, the state California Alcoholic Beverage Control (ABC) does require anyone who is a server, bartender, waiter, and manager that serves alcoholic beverages must be California RBS certified by an approved training provider like Serving Alcohol.
Does a bouncer need to be RBS certified?
Yes. "Serving alcoholic beverages for consumption" applies to any server at a licensed premises and security guards checking IDs at the door of a licensed premises. Security guards that do not check IDs do not have to be RBS certified. This will require careful structuring of personnel by security services, and by large venue employers.
Frequently Asked Questions - Alcoholic Beverage Control - CA.gov
California Responsible Beverage Service
Frequently Asked Questions
Step 1:  REGISTER WITH THE CALIFORNIA ABC
All servers and managers must create a personal RBS account in the state of California RBS website. You MUST have a 9-digit RBS server ID. They have a $3 fee to create your account and give you the required server ID. Click here for RBS Portal: https://abcbiz.abc.ca.gov/

Watch this short video to learn how to become a registered server or manager.
Step 2: 

COMPLETE APPROVED RBS TRAINING COURSE
Enroll Now and begin your RBS training course here. We are an approved and recommended California RBS training provider.

Step 3: 

PASS STATE EXAM
After completing the course, return to your RBS account on the state's website to take the exam for your certification. Completion of our course triggers the RBS portal to begin taking your exam.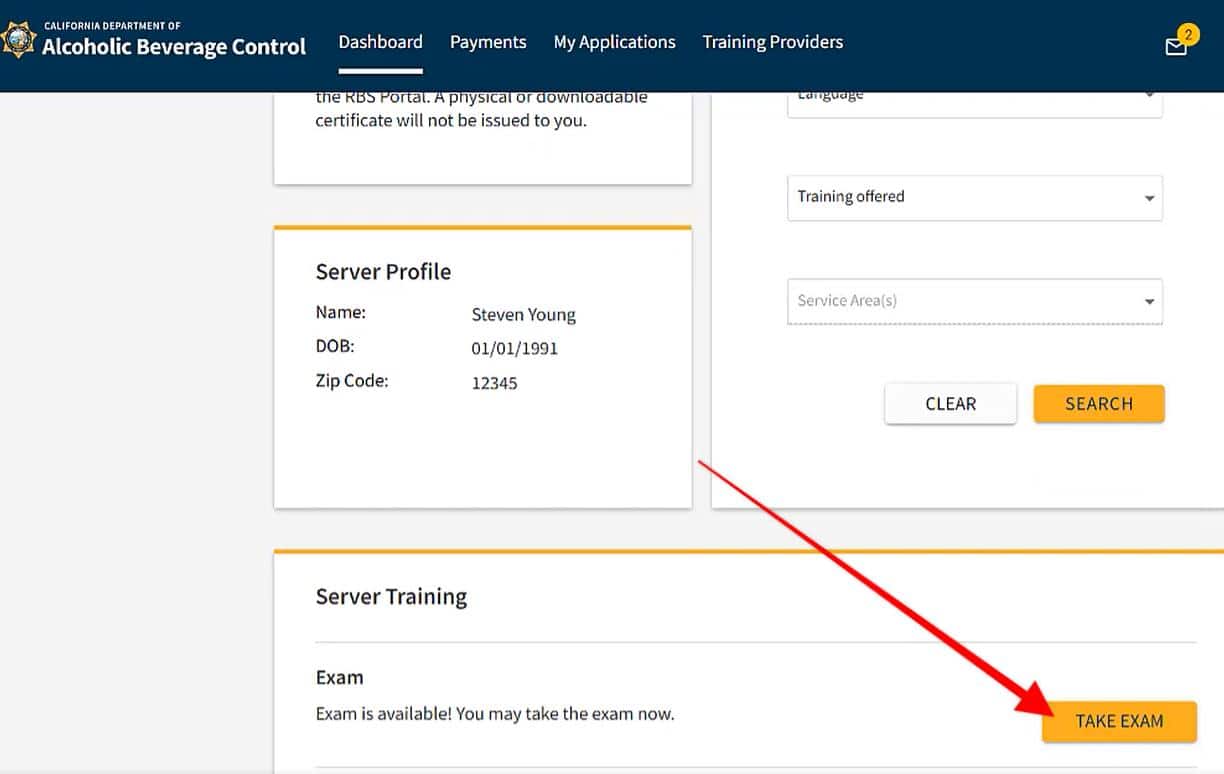 You MUST take the exam within 30 days of completing the course. You have 3 attempts to retake the exam if needed.
Proprietary Security Officer (PSO or PPSO)
The State of California mandates that all in-house guards or bouncers, known as Proprietary Private Security Officers (PSO) under the law, complete 16-hours of job-specific training as part of their licensing process. This requirement can be satisfied online through our interactive course. BSIS Approved 16-Hour Online PSO Training.

ANSI-accredited online
Food Handler Training course
California Food Handler Card
Only $9.95

List Price:
$12.95
Our RBS seller server training course strictly follows the guidelines provided by the California Department of Alcoholic Beverage Control on how to become a bartender in California certified by the state, or an alcoholic beverage seller server. This certification course is often referred to as California responsible beverage server training, California bartending license, California RBS server permit, or California alcohol handlers card. This course is needed and required for all servers, bartenders, and managers within the state who serve alcoholic beverages. It is also required of the security staff or bouncers who check IDs of those patrons of alcoholic beverage serving establishments. Our California alcohol training certification incorporates decades of research as well as questions such as "how old do you have to be to serve alcohol in California". Our CA bartending license gives you the rules, regulations, and California liquor laws set by California Department of Alcoholic Beverage Control for California responsible beverage service training.
Beginning July 1, 2022, California Department of Alcoholic Beverage Control law mandates that establishments cannot employ or continue to employ any alcohol server without valid California alcohol handlers card training. Bartenders, servers, waiters, and managers who are newly employed are required to be RBS Certified within 60 days of hire. You can use any computer, tablet, iPhone, or Android device. After you complete our course, you will need to return to your RBS account on the state's website. Our course will help you easily get all the RBS exam answers correct and get immediately certified today. For those who are asking how to become a bartender in California, our online California RBS alcohol certification will get you officially certified so you can receive your CA bartender license today.
What is the definition of an alcohol server?
ABC On-Premises License
ABC license that grants the privilege to serve alcoholic drinks to patrons who then consume them within the licensed premises.
Alcohol Server
Anyone who:
checks customer IDs for the purpose of alcoholic beverage service or entry to an ABC on-premises licensed establishment,
takes customer alcoholic beverage orders,
pours alcoholic beverages for customers, or
delivers alcoholic beverages to customers.
Manager
Anyone who directly hires alcohol servers, oversees alcohol servers at an ABC licensed premises, or trains alcohol servers how to perform the service of alcohol for consumption for an ABC on-premises licensee.
Advantages to our online course:
Easily complete at your own pace
Login and out of course as many times as needed to complete
Up to 6 months to complete your course
Only 70% to pass and get your certificate
Retake final exam until pass if needed FREE
Immediately download & email your certificate for FREE
We recognize that you are busy and getting your California alcohol handlers card may not be on the forefront of your mind. We aim to give you accurate knowledge and quickly bring you "up to speed" with the most recent California laws. Some of our information may seem common knowledge. But, we take your profession very seriously. Your decisions, while serving alcohol, could make a dramatic difference in another person's life. With a little of your time and our training, you will get tips on how to become a safe server. Select your course, click Enroll Now, complete our course, and take the exam to get your California responsible beverage service training certification from the RBS portal all within a couple of hours.
For over a decade, we have collaborated with the California Department of Alcoholic Beverage Control and liability lawyers to create the most reputable and recommended alcohol certification training. We cover topics in our CA bartender license course about "how old you need to be to become a bartender"and "how old do you have to be to serve alcohol in California". For reference, we have a web page dedicated to some helpful bartender career statistics in the US. For general information on obtaining a bartending license (not specific to any state), see our Ultimate Guide to Getting a Bartending License.
Our California alcohol seller server course gives you the tools to sell and serve alcohol in California responsibly. By taking this course, you will not only protect yourself but the establishment where you are selling and serving alcohol. Additionally, you will learn:
The effects of alcohol on your patrons
Keep customers from becoming overly intoxicated
Intervene when you need to refuse a sale
Prevent intoxicated customers from disturbing others
Train Your Staff to Check IDs Properly for Fake IDs
Prevent second-party sales
Protect yourself and the establishment from liability
Most Recommended California RBS Training
Serving Alcohol has over 35 years experience teaching principles and in-depth knowledge in the responsible beverage service of alcohol. You'll learn alcohol awareness training, intervention techniques, server duties, carding procedures, and state laws. All in a simple online alcohol server training course that is easy to understand. If you're a bartender, a waiter / waitress, or server looking to achieve your California bartender license, then our course is the one you'll need.
Online interactive and self-paced training

100% Pass Guarantee or your money back

24/7 Customer Support Center
Who Should Take our Alcohol Certification
Bartenders
Bar backs
Servers & Wait Staff
Restaurant / Bar Supervisors
Restaurant / Bar Managers & Owners
Store Supervisors, Manager, & Owners