How to Become a Bartender
Our accredited state alcohol training certification courses and food handlers courses help provide best practices and training tips for you to meet state, local, business, and professional needs. Our focus is to help you serve your patrons safely and be a successful bartender or server. Get your alcohol training certification online quickly with our training courses. Choose from the state-level seller-server course, Responsible Alcohol Manager course, Master Bartender course, Food Handler courses, and food manager certification.  For bartender training, we have a two-for-one deal with our The Ultimate Guide To Bartending e-book and our Master Bartender course. Together, these provide the best seriously in-depth yet easy-to-follow book and course combination available on your iPhone, Android phone, tablet, or computer. We cover topics in our bartender courses about how to become a bartender, how old you need to be to become a bartender, how much is a bartending license, and how to get your bartender license. For reference, we have a web page dedicated to some helpful bartender career statistics in the US. For general information on obtaining a bartending license (not specific to any state), see our Ultimate Guide to Getting a Bartending License.
The Most Reputable and Recommended Alcohol Training Certification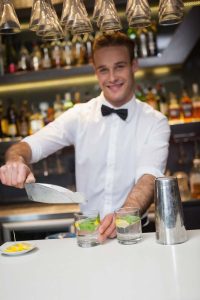 ServingAlcohol.com offers the best option to accomplish your online certification. We go beyond the basics of alcohol awareness and carding techniques to deliver everything you need to know as an alcohol seller-server in your state. Over the past 35 years, we have become the most widely respected authority in responsible alcohol training by state and local officials. Our alcohol server certification program prepares alcohol sellers to sell and serve alcoholic drinks on and off-premises responsibly. We offer a wide host of state courses and bundles (combined with food safety handling courses) to suit your employment needs and business operations.

Preferred by General Liability Insurance Carriers
We are the preferred alcohol training provider for many liability insurance carriers across the United States. Most liability insurance carriers for alcohol-serving establishments (restaurants, bars, taverns, and nightclubs) require all employees to hold an alcohol certification. Our training allows you and your staff to remain current with state laws, rules, and regulations, in respect of the service of alcohol.
How To Avoid Lawsuits Before They Happen
While creating repeat business and making money; it's also extremely important to keep in mind the different legal implications of selling and serving alcohol. Dramshop, server liability, illegal intoxication, DUIs, fake IDs, and minors can end up costing you thousands of dollars. Liquor control commissions, regulators and general liability insurance carriers want you to know how to protect you and your business. Our state courses offer you peace of mind by guiding you through and giving you guidance.
Quick and Efficient Alcohol Training Certification
From the moment you enroll, you'll be quickly and easily on your way today to completing your certification. You can take the course at your convenience. You can efficiently finish the state course today or span out your learning over a timeframe that is convenient for you. Receive your alcohol certification immediately upon completing the course.
Certify Your Staff with a Business Account
For more significant discounts and control, we offer business accounts that give a 15% discount on our already-low prices. With a business account, you will have the ability to view your staff's progress from one central login. Track daily, weekly, or monthly progress with our Serving Alcohol Business Dashboard tool.  Easily monitor who has started their training, who has completed their training, and save or print each of their alcohol certifications from your login.
What is the Alcohol Certification Called?
There are different terms for being alcohol certified. They usually vary by state but all require a training course to be completed. Some alcohol certifications may be called bartending license, bartending certification, or even alcohol training. Being alcohol certified greatly reduces the alcohol serving establishments' liability. It means knowing the signs of when someone is possibly impaired, how to intervene should it be necessary and could mean the difference between an establishment losing their liquor license or reducing their fines should they be found liable. It is always worth it to be alcohol certified and in some states it is mandatory by law.
What if I Have Questions?
If you need help, please contact us. We are here for you and give unbeatable personal one-on-one technical support from beginning to end. Our U.S.-based team is available to answer your questions. Access our support from our Contact Us web portal. Get started on easily completing your alcohol training certification today!
For reference, we have a web page dedicated to some helpful bartender career statistics in the US. For general information on obtaining a bartender license (not specific to any state), see our Ultimate Guide to Getting a Bartending License.