How to Begin Bartending
Bartending is a fun job that pays well. If you enjoy working in a dynamic environment where there's constant challenge, the profession can be rewarding in many ways. This bartending 101 is meant to introduce you to bartending basics like the duties, the wages, skills needed, and how to start bartending – a promising career opportunity.
Success in bartending begins with a set of solid foundational skills. As a bartender, you are not only expected to mix drinks but also to deal with patrons, all while keeping track of multiple things at once. This line of work requires a mix of memory skills, technical bartending knowledge, a finesse in time management, a bit of flair, and an almost natural way with people.
If you're looking to launc/bartender-skills/h your own bartending career, this bartending 101 article will help you learn essential bartending basics.
What are the Basic Concepts in Bartending?
Good bartenders make their job look easy but the actual work entails adequate presence of mind. Bartenders juggle between a number of tasks besides mixing great cocktails.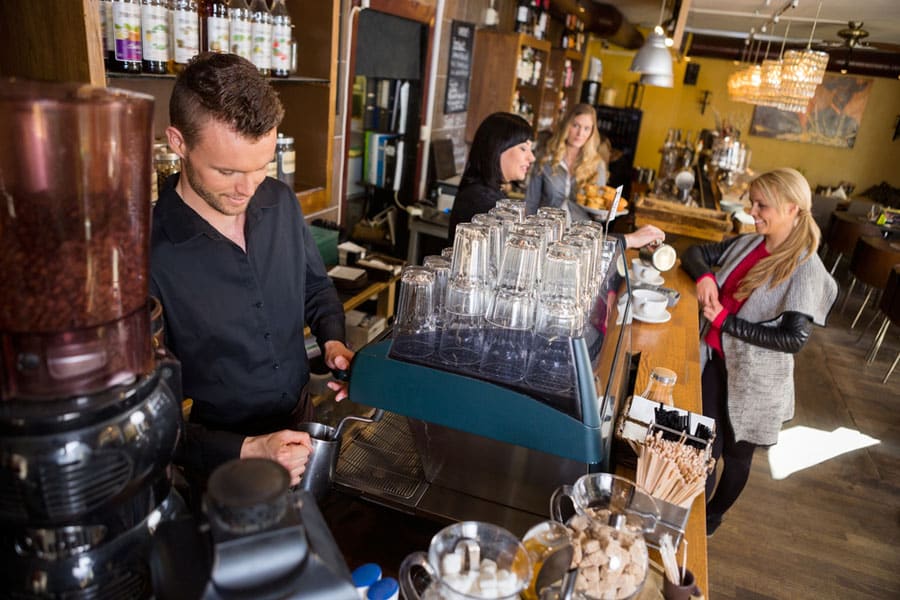 The responsibilities of a bartender include:
Checking IDs to make sure they only serve alcohol to persons of legal drinking age
Mixing and serving drinks
Keeping the bar clean
Placing food orders
Suggesting food pairings
Processing payments
Conversing with customers
Keeping the bar stocked
Upselling drinks
How Much do Bartenders Earn?
How much bartenders make will depend on a number of factors such as how long they work in a day, the time of their shift, the location of the venue, and what state they are working in.
Employment sites online estimate the average earnings of bartenders in the United States to be around $21,000 to $32,000 a year. But that estimation presumes that bartenders work the regular 40 hours a week. In reality, bartenders work anywhere between 24 to 80 hours weekly.
It also doesn't factor in the amount of money they earn from gratuities or tips. Contingent upon the factors stated above, bartenders can make an average of $40 to $1000 per shift in tips alone. Yes, that's a wide-ranging difference. We break this down in great detail on our How Much Do Bartenders Make page with graphs and tables and a lot of math details.
In truth, it can be a financially-rewarding job for someone who's willing to learn and put in the work.
What Skills are Needed to be a Bartender?
Drink knowledge, expertise in mixology, and being able to work your bartending gear are all basic technical components of a professional bartender's repertoire. These are bartending 101 skills that you can learn either by taking bartending courses or by working as a barback (bartender's assistant).
However, the success of your bartending career extends beyond just learning how to use a jigger.
Perhaps the most useful skill you need to have to be an effective bartender is being able to task switch efficiently. Task switching means transferring your focus from one thing to another simultaneously. It is different from multitasking which is deliberately dividing your attentional resources among multiple tasks.
Another important thing to learn is to stay organized. Keeping your workspace neat allows you to keep track of where things are, which helps you build a system of working around your familiarity with the environment.
And most importantly, it pays to hone your communication skills. Customer service is one of the many hats that a bartender wears at work. Making sure your patrons have a good time is especially key to earning good tips.
How to Become a Bartender?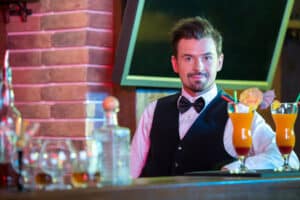 Reading about bartending can only get you so far. The best place to learn is to do the actual work. The best advice from bartending veterans is to get hired as a barback or a bartender's apprentice. This gives you the opportunity to observe and learn the ropes before you can take on the show yourself.
If you want to build substantial technical and practical knowledge about bartending, you can do so by enrolling in bartending courses in-person or online.
Bartending certification and training programs educate you about pertinent alcohol laws in your state, help you learn the tools of the trade and introduce you to basic mixology techniques.
Can I Teach Myself to Bartend?
The answer is a definite yes! Getting a cocktail recipe book and buying a cocktail shaker can help in memorizing the drinks and learning how to make them. But the main experience of socializing with the customers isn't had at home. Working at a bar is still highly recommended, especially for the tips!
How do I teach myself mixology?
Teaching yourself Mixology takes practice. The best way is to try making different drinks with different liquors, cordials and garnishes. Some recipes require more and some require less. It's learning how they balance together that that's where the magic happens! Check out our Breaking Down Series to learn about some of the worlds most popular drinks!
Ready for the Next Step?
Getting a bartending license is a rite of passage for many bartenders. Although some states don't require bartenders to obtain a bartending license, most businesses still require their new hires to pass an alcohol awareness training program. You can get yours right now!