Florida Responsible Alcohol Certification
Florida Alcohol
Server Seller Certification

Florida Bartending License
Florida Responsible Alcohol Certification
Since 1985, Serving Alcohol has been the official and preferred Florida-based responsible alcohol training provider online. We offer our Florida responsible alcohol certification for bartenders, servers, and managers in both English and Spanish. This course is commonly known as the Florida bartending license, Florida alcohol seller-server training, to fulfill their Florida alcohol certification needs and learn how to get a bartending license. Our Florida bartender certification meets and exceeds the requirements outlined in the state's Florida Responsible Vendor Program. To help you better control risk and obtain a better reward, the state of Florida enacted the Florida Responsible Vendor Program for businesses to know Florida alcohol laws while serving alcohol in Florida. Over the last 35 years, tens of thousands of individuals and businesses rely on our Florida responsible vendor alcohol training as their official Florida bartending license certification.
Staff members who serve or handle food should be Florida Food Handler certified as well.
Serving Alcohol Is Based In Florida
We are based in Delray Beach, Florida. Most Florida restaurants, nightclubs, bars, and businesses use Serving Alcohol for this reason. This places our reputation and preference for our Florida alcohol certification training above all others. The state of Florida does not require responsible alcohol service training. But, many local ordinances do. It also offers many mitigating benefits to business operators who voluntarily participate in the state of Florida Responsible Vendor Program to make it worth the effort. The state highly recommends it to owners and managers.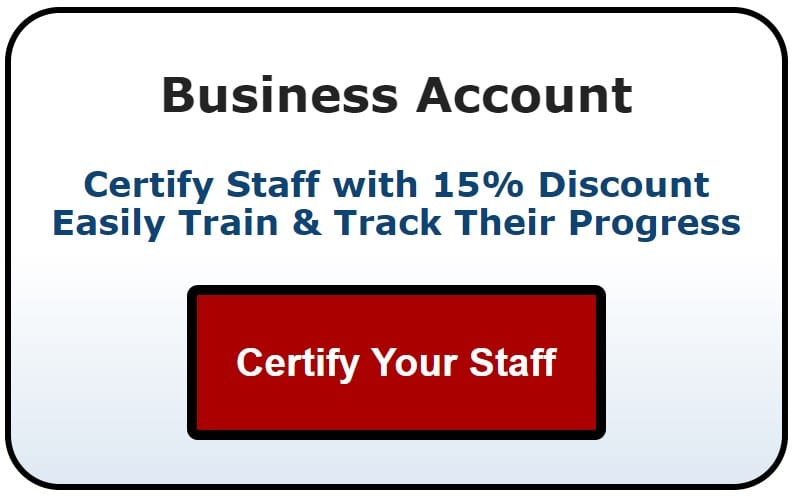 Our English and Spanish Florida alcohol certification is designed specifically to meet and exceed the requirements of the Florida Responsible Vendor Program to know Florida alcohol laws.
Advantages of our online course:
Easily complete at your own pace
Login and out of course as many times as needed to complete
Up to 6 months to complete your course
Only 70% to pass and get your certificate
Retake final exam until pass if needed FREE
Immediately download & email your certificate for FREE
We cover topics in our Florida alcohol server certification course about how old you need to be to become a bartender and how to get your Florida bartender license. For reference, we have a web page dedicated to some helpful bartender career statistics in the US. For general information on obtaining a bartending license (not specific to any state), see our Ultimate Guide to Getting a Bartending License.
How To Become A Bartender In Florida
 It's easy to begin and complete in one sitting or take our training course at your own pace. Our English and Spanish course only takes a couple of hours or less. At the end of the course, your certificate is available as a FREE download to your computer, iPhone, iPad, or Android-based phone or tablet. Leave and come back to the course as many times as needed. When you return, the training will pick up on where you last left it.
Difference between On-Premise and Off-Premise
On-Premise refers to selling and serving alcohol such as a bartender or server in a restaurant, bar or nightclub.
Off-Premise refers to only selling alcohol as a clerk in a liquor store or convenience store.
Our course covers you for both on-premise and off-premise situations.
Florida Responsible Alcohol
Frequently Asked Questions
Required By State & Insurance Carriers
Most liability insurance carriers for alcohol serving establishments (restaurants, bars, taverns, nightclubs, etc.) require all employees to be alcohol certified. They will require your staff to remain current with the state of Florida rules, regulations, and laws, in regards to the service of alcohol.  As a result, more businesses are requiring our alcohol server certificate as a condition of employment.
As an owner or manager of an alcohol serving establishment, you can participate in the Florida Responsible Vendor Program.  We give you the tools to train your staff to accomplish each of the requirements.
Most Recommended Alcohol Certification Training
We recognize that you are busy and alcohol training may not be at the forefront of your mind. We aim to give you accurate knowledge and quickly bring you "up to speed" with the most recent laws. Some of our information may seem common knowledge. But, as you do, we take your profession very seriously. Your decisions, while serving alcohol, could make a dramatic difference in another person's life. With a little of your time and our training, we will help you become a safer alcohol seller or server and possibly increase your tips. A free certificate and wallet card given immediately after completion.
You will learn all the "compliance" material and, as an added bonus, you will learn some hard-won industry insights. We work directly with the states that we represent so that your training is current, concise, accurate, and highly approved. With our alcohol certification program, we give you the tools to learn to serve responsibly, a sense of responsibility, and respect for your community and your work environment.
Serving Alcohol has over 35 years of experience teaching alcohol certification principles and in-depth knowledge. You'll learn alcohol awareness training, intervention techniques, server duties, carding procedures, and state laws. All in a simple online alcohol server training course that is easy to understand and comprehend. If you're a bartender, waiter/waitress, server, or manager looking to achieve your bartending license or server permit today, this is the course you need.
Online interactive and self-paced training
100% Pass Guarantee or your money back
24/7 Customer Support Center
Who Should Take our Alcohol Certification
Bartenders
Barbacks
Servers & Wait Staff
Restaurant / Bar Supervisors
Restaurant / Bar Managers & Owners
Wine & Liquor Store Cashiers
Grocery Store Cashiers or Clerks
Store Supervisors, Managers, & Owners
You Will Learn How To:
Protect yourself and the business establishment from liability

Recognize the effects of alcohol on the customers served

Prevent customers from becoming overly intoxicated

Intervene effectively and courteously when it is needed to refuse a sale or service

Prevent and deal with disturbances inside your business establishment

Accurately check IDs and recognize minors with fake IDs

Prevent second-party sales

React with authorities if or when a problem might arise