Responsible Alcohol Manager Course
This course is required for managers in Florida only under the Florida Responsible Vendor Program.  For other states, our manager training course will widen the scope of inform for managers and owners beyond their state specific alcohol certification.  The in-depth information provided in our Responsible Alcohol Manager course is based on experience and knowledge from our founder, Robert Pomplun. He has given thousands of seminars to new and existing business owners/managers since 1985. The knowledge within offers managers and owners detailed valuable information for your establishment. Alcohol serving establishments need well trained staff to mitigate the potential risk inherent with serving alcohol. A Responsible Alcohol Manager certificate shows your liability insurance carrier that you are committed to responsible alcohol business practices.
For Michigan, Pennsylvania, Wisconsin, Montana, or Illinois, you are required to take your state's responsible alcohol certification course instead. Except for Florida, the Responsible Alcohol Manager certification will not fulfill those state's requirements. The manager course is an addendum to your knowledge as a manager or business owner.
This course is required under the Florida Responsible Vendor Program for the state of Florida.  For the state of Florida, this training fulfills the need under the Florida Responsible Vendor Program for managers and owners.  In Florida, the manager must take both courses, our Florida Alcohol Seller Server Course and this course together.
If you have any questions, please feel free to ask us and send a message through our Contact Us web portal.
What are the benefits of this course?
Expanded knowledge based on experience from 35 plus years of industry training and research.
Required for all Florida businesses to comply with Florida Responsible Vendor Program.
A library of resources to download and keep for your business.  We have downloadable forms such as employee contracts, Incident reports, ID register, Bartender evaluations, etc.  See the Management Resources listed below.
Certificate showing your commitment to responsible alcohol practice
Access to this course gives you get very useful forms that every alcohol serving establishment should have at their disposal.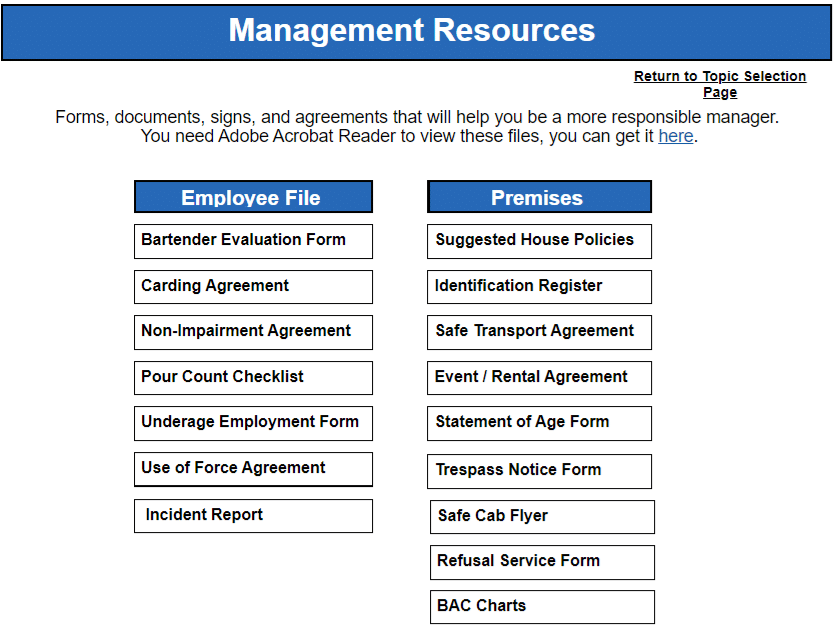 Testimonials
I give this course a solid A for its overall value.
Extremely thorough on all pertinent information!
Course Outline

This is a comprehensive online course which covers such topics as:
Staff training
House policies
Expanded restaurant and bar knowledge
Properly check identification
Underage Guests
False identification
Documentation
Establishment safety (inside and outside)
Different methods to prevent intoxication
Practice what you have learned with real-life scenarios. These scenarios are a safe environment to test how you would respond to possible dangers. Once you have reviewed the content and successfully passed the test, you receive a personalized certificate of completion which can be printed and transferred to any alcohol-related job in the future. The course contains job-related resources which can be customized and printed for use in your establishment. These include sample house policies, employee agreements, signs, and forms that are necessary to reduce liability and better serve your staff and customers. Conveniently take the course at your own pace and your own time. You can return to the last page viewed so your time is not wasted.
35 Years of Alcohol Training Knowledge and Experience
We take great pride in bringing you quality information. Since 1985, we have alcohol certified tens of thousands of individuals and businesses over the last 35 years. This course is created by former bar and restaurant managers, bartenders, and servers. Serving Alcohol Inc provides thee industry leading training and services to owners, managers, bartenders, waitstaff, and retail sellers of alcohol.  Our training incorporates decades or research directly from our staff because we have "been there" working in the alcohol serving environment.
We recognize that you are busy and alcohol training maybe not on the forefront of your mind.  We aim to give you accurate knowledge and quickly bring you "up to speed" with the most recent laws. Some of our information may seem common knowledge. But, as you do, we take your profession very seriously. Your decisions, while serving alcohol, could make a dramatic difference in another person's life.  With a little of your time and our training,  we will help you become a safer alcohol seller or server and increase your tips. Free certificate and wallet card given immediately after completion.
You will learn all the "compliance" material and, as an added bonus, you will learn some hard won industry insights.  We work directly with the states that we represent so that your training is current, concise, accurate, and highly approved. With our alcohol certification program, we give you the tools to learn to serve responsibly, a sense of responsibility, and respect for your community and your work environment.
If you have any problems, please Contact Us and we will quickly work with you to resolve it.