Learn how to survive behind the bar!
Behind the Bar Excellence

Kick Start Your Career
Only $15.00

List Price:
$25.00
Behind the Bar Excellence: Setup to Success
Our Behind the Bar Excellence course prepares you for your future as a server in bars and restaurants and get to know all the tasks and drinks involved. This includes mixology of drinks, bar prep, and guest handling, plus other bartender training skills. The Behind the Bar Excellence course will benefit individuals who are new or want to revisit knowledge about serving alcoholic drinks. We have prepared thousands of people nationwide on various bartender tips, mixology of drinks, and the necessary responsibilities for achieving high bartender skills. This course was written by experienced bartenders for bartenders. The course contains recipes and links to resources that can help you continue to learn and increase your bartender skills.
Why should I take this course?
Many people ask us how to become a bartender.  If you are new to the serving of alcoholic drinks, begin your career right, select enroll now for the Behind the Bar Excellence course. This is the perfect tool to give you the overall and particular knowledge needed to become a bartender. Some online courses charge $50 to $100 to train you on hundreds of drink combinations and different ways of combining them. In reality, all these combinations are offered through our Behind the Bar Excellence: Setup to Success class with links and references to keep and store when you need them.
includes the Behind the Bar Excellence course
Your Reference Guide To Bartending
Before taking this course, your employer will want the Alcohol Seller Server Training course for the state you are working. Click this link and select from the menu of states or USA map.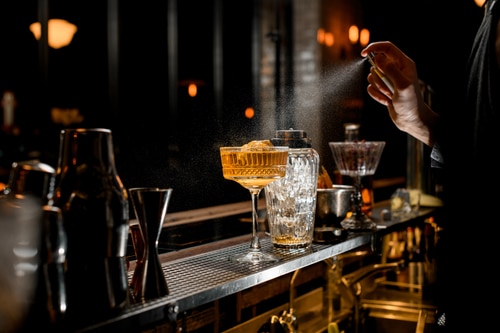 These topics are covered in this course:
Bar setup process
Bar maintenance
Mixology and drink preparation
Review of different beers, wines, and liquors
Glassware handling
Guest service and handling
Increasing your tips
Take our course at your own pace and on your own time. Return to the course an unlimited amount to complete your class. When you click the Sign In button at the top of the page, you will return to the last page viewed to continue. If you need refreshing of concepts or mixing of drinks, your login is available over the next 6 months. The course is dynamically updated every few months with more resources and current information.
Once you have reviewed the content and successfully passed the test, you will receive a personalized certificate of completion.