State Required Course
Montana Alcohol
Server Seller Training Course
Only $14.95

List Price:
$19.95
Montana Alcohol Server Seller Training Course
Our Serving Alcohol Montana Alcohol Server Seller Training Course is required before selling or serving alcohol in the state of Montana. This Montana alcohol certificate is also known as Montana bartender license or Montana Server/Seller Permit.  The law requires all licensees ensure any employee who serves or sells alcohol, their immediate supervisor and the license, if they serve or sell, obtain training from a state alcohol approved program (16-4-1005 MCA) from Serving Alcohol by the Montana Alcohol Beverage Control Division

This training follows the rules and regulations of the Montana Code Annotated 2019 TITLE 16. ALCOHOL AND TOBACCO and any related penal and vehicle code. Serving Alcohol Inc. is approved as a certified state alcohol approved program (16-4-1005 MCA). This Montana alcohol certificate course meets both on-premises and off-premises situations.
Our Montana alcohol certification course gives you with the tools to sell and serve alcohol responsibly. Additionally, you will learn:
The effects of alcohol on your patrons
Keep customers from becoming intoxicated
Intervene when you need to refuse a sale
Prevent intoxicated customers from disturbing others
Prevent second-party sales
Protect yourself and the establishment from liability
Insurance Carriers
With all our experience, we give you ultimately everything needed to improve your business' stance with all liability insurance carriers. Most liability insurance carriers for alcohol-serving establishments (restaurants, bars, taverns, and nightclubs) require all employees to hold an alcohol certification. Therefore, they will need your staff will remain current with state rules, regulations, and laws, in regards to the service of alcohol. As a result, more businesses are requiring our server certification as a condition of employment.
Quick and Easy
Our Montana Alcohol Server Training Course is simple to enroll in and easy to take. Begin it in one sitting or leave and come back to the course as many times as needed. Select your course, click Enroll Now, complete the course, and print your certificate!
Use Any Computer Tablet or Smartphone
Our Montana Alcohol Server Training Course is responsive! Take it on a computer, laptop, tablet, or cellphone; on the go or while you sit at home. Now training can be done on your terms.
Get Certified Today
Need to be compliant in a hurry? Your Montana Alcohol Server Training Course certificate is available to you immediately upon completion as an emailed PDF file. Complete it tonight and email to your manager before going to work tomorrow.
Completion 100% Guaranteed
We give you multiple chances to take the course. Busy? Multi-tasking? No worries! Come back until you get it completed, guaranteed.
Professional Experience
Serving Alcohol, Inc. has over 30 years of experience in teaching alcohol awareness, intervention techniques, server duties, carding procedures, and state laws. Our course will teach you: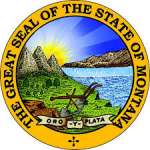 How to protect yourself and establishment from liability

How alcohol affects your customers

How to recognize the effects of alcohol on your customers

How to prevent customers from becoming overly intoxicated

How to intervene when you need to refuse a sale

How to avoid and deal with disturbances

How to accurately check IDs and recognize minors with fake IDs

How to prevent second-party transactions

How to react with authorities when a problem arises
Testimonials
I learned a lot from this course and feel much more confident about my new job.
Best course ever with amazing discounts. You get the same license spending a regular $30-$40!!
Montana Frequently Asked Questions
I've already purchased this course? How do I log back in?
To sign in and return to the Montana Alcohol Server Training Course, go to our homepage at www.servingalcohol.com and click on the big Sign In button towards the top.
Who controls liquor licensing in Montana?
The agency that handles Montana liquor licensing and/or bartender licensing rules and regulations is the Montana Alcoholic Beverage Control Division.
The Montana Alcoholic Beverage Control Division
Telephone: (866) 859-2254
What laws, regulations, and statues do I have to follow in Montana?
What are forms of identification acceptable for purchasing alcoholic beverages or tobacco products in Montana?
Any form of a government-issued ID can be accepted. Including but not limited to:
Current state or Canadian driver license or identification card

Current armed service identification card

Valid passport or passport card

Montana tribal identification card

Montana temporary driver license and identification card

Montana probationary driver license
What is the minimum age to sell or serve alcohol in Montana?
No person under 18 years of age may serve or sell intoxicating liquor in a retail intoxicating liquor establishment.
Can I sell or serve alcohol in with a felony conviction in Montana?
Maybe. It's up to the judge to determine if the nature of the felony should keep the individual from currently or in the future selling alcohol.
What is the blood alcohol content for a DUI/BWI in Montana?
A Montana DUI, driving under the influence of alcohol or drugs, can be one of three offenses:
driving while under the influence (impaired) by drugs or alcohol

driving with an excessive blood alcohol content (BAC) (.08% or more), and

driving with excessive THC (the psychoactive ingredient in marijuana) concentration (5 ng/ml or more)
In Montana it is also illegal to drive a boat while under the influence known as a BWI or boating while influenced.
What is the dramshop law in Montana?
According to 27-1-710. Civil liability for injuries involving alcohol consumption, a person or entity furnishing a person with an alcoholic beverage is not a cause of, or grounds for finding the furnishing person or entity liable for, injury or damage wholly or partly arising from an event involving the person who consumed the beverage unless:
the consumer was under the legal drinking age and the furnishing person knew that the consumer was underage or did not make a reasonable attempt to determine the consumer's age;

the consumer was visibly intoxicated; or

the furnishing person forced or coerced the consumption or told the consumer that the beverage contained no alcohol.
We have over 30 plus years of experience and considered the most reputable and recommended training provider with alcohol certification. Our founder, Robert Pomplun, has been actively involved in the hospitality industry as an alcohol certification consultant, instructor, manager, and coordinator. Our alcohol training and certification courses, with Robert's guidance, have benefited tens of thousands of bartenders, servers, managers, owners, and security staff across the nation. Our courses will prepare you and your team with knowledge as the most critical component of responsible alcohol service.
Learn more About Us!
Compatible computers, device, or web browser to take the course
Computers or devices compatible to take this course:
Windows 7,8,or 10

Mac OSX or better

Android based tablet or phone (version 5.0 or better)

iPhone 6 or better

iPad 4 or better
Compatible web browsers:
Google Chrome ver. 50 or better

Mozilla Firefox ver. 45 or better

Safari 10 or better

Microsoft IE 11 or better

Microsoft Edge
We want to make a special note concerning Samsung web browsers on Android devices. Interactive learning software has some difficulties with the Samsung browser.  Please, switch to the native Google Chrome browser on your device instead.  You will have a better user experience.  Every Samsung smartphone comes with the native Google Chrome web browser.  If you need to download it, click the link below.
Get a FREE certificate
&
FREE wallet sized card!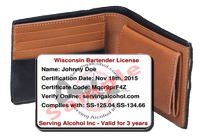 Our Alcohol Training Course
Serving Alcohol has over 35 years of experience in teaching alcohol certification principles and in-depth knowledge. You'll learn alcohol awareness, intervention techniques, server duties, carding procedures, and state laws. All in a simple online alcohol server training course that is easy to understand. If you're a bartender, a waiter / waitress, or server looking to achieve your bartender license or server permit, then our course is the one you'll need.

Online interactive and self-paced training
100% Pass Guarantee or your money back
24/7 Customer Support Center
Who Should Take This Course:
Bartenders
Bar backs
Servers & Wait Staff
Restaurant / Bar Supervisors
Restaurant / Bar Managers & Owners
Wine & Liquor Store Cashiers
Grocery Store Cashiers
Store Supervisors, Manager, & Owners
You Will Learn How To:
Protect yourself and establishment from liability
Recognize the effects of alcohol on your customers
Prevent customers from becoming overly intoxicated
Intervene when you need to refuse a sale effectively
Prevent and deal with disturbances
Accurately check IDs and recognize minors with fake IDs
Prevent second-party sales
React with authorities when a problem arises