An effortless job takes expertise and bartending is no exception. Just like skilled artists, bartenders employ drink knowledge and their own choice of tools to work their magic.
For starters, the art of bartending is not limited to mixing liquors. Sometimes it's done for show or flair bartending. Besides the endless drink recipes that bartenders need to take to heart, they also have to be proficient in handling the myriad of bartender tools required to get the job done. 
If you're considering bartending as a future career, getting acquainted with the tools is an important part of learning the trade. But don't fret! These tools are easy to use and get familiar with. Here are essential bartending tools and equipment that every beginner bartender should know.
Essential Bartender Tools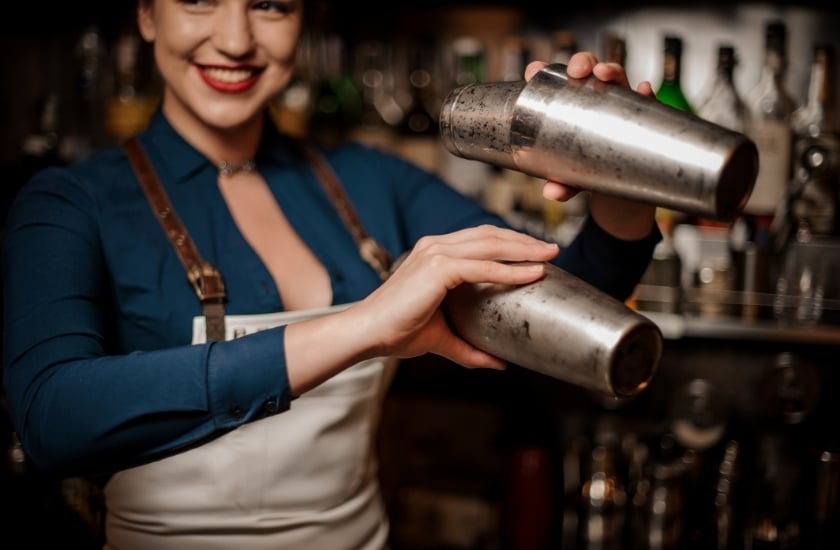 There are certain bartending tools that you will find indispensable early on in your bartending career. Surprisingly, most of these are not even directly related to the actual drink preparation. Yet, having these items will definitely make your job easier.
These handy tools are must-haves on the bar top:
Bar rail mats

— used to hold wet glasses when preparing drinks. Bar mats can be made of soft PVC or rubber materials. They help catch spillage and help keep the bar top clean

Service mat

— typically made of rubber, it's where finished drinks and cocktails are placed 

Speed opener

— also called a bar blade, a speed opener is a type of bottle opener designed for opening crown bottle caps quickly

Wine key

— it's a three-in-one tool crucial for opening wine bottles. It's essentially a corkscrew tucked into a folding body just like a pocket knife

Pens

– handy for taking orders. Carry a spare pen just in case you lose one

Lighters

– useful for the occasional flaming techniques or helping out a patron trying to light up
Drink-Making Equipment
No decent bartending work can be done without some foundational bartending pieces. These drink-making essentials make the bulk of the work possible and are therefore staple bartender tools in any serious bartender's workstation.
Cutting boards

— made of either plastic or wood, cutting boards are common in basic kitchen prep, but in bartending are used for cutting fruits and other ingredients for a wide variety of beverages and cocktails

Paring knives

— used alongside cutting boards for cutting fruits and garnishes

Jiggers — an hourglass-shaped tool used for measuring liquid for many drink combinations. They come in different sizes
Pourers

— these are placed on the end of bottles to control the flow of the pour

Shakers

— used for chilling and mixing alcoholic drinks with other beverage types

Strainers

— placed on the mouth of the shaker or glass to filter out ice pieces or other small ingredients after mixing or shaking

Bar spoon

— used for stirring and layering drinks, a bar spoon looks like a regular spoon but usually with a slimmer and longer handle

Muddler — a pestle-looking bartending tool used for mashing herbs and fruits
Juice Press

— extremely handy for extracting juice from common citrus ingredients like lemon and lime

Non-essential but nice-to-have bartender tools
You can get your work done even without the following bartender tools. Still, having them is convenient and practical.
Tongs

— for a cleaner way to handle ingredients

Zesters

— useful for removing citrus rinds

Funnels

— make pouring liquid from one bottle to another easier

Blenders

— common among serious mixologists, blenders are handy for pureeing fruits to mix with drinks

Cocktail picks

— a common item used for garnishing
Learning about bar tools and equipment is fun but you need real practice to be able to properly use them. If you think it's time to take your bartending knowledge to the next level, browse Serving Alcohol's online bartending certification courses and training programs to get started right away!