The cost of a bartending license varies depending on where you live, who your training provider is, and whether you complete it online or in person. On average, getting a bartending license will cost you anywhere between $12 and $35. For our rates at Serving Alcohol Inc., please see our page for state alcohol server certification and click on your state (dark red indicates we have a course for that state).
If you're wondering "what is a bartending license" consider the price but also consider what training you get for that. Each training agency has different levels of experience and covers different material. This will impact how good you look as a job candidate, and how comfortably you can perform in the job.
What is a Bartending License?
A bartending license is a document certifying that you successfully completed the minimum amount of alcohol awareness training necessary to work as a bartender.
Not all states require their bartenders to obtain a bartending license for employment. However, rules vary widely even from city to city. Because of the nature of the job and the business, most employers require their staff to obtain alcohol awareness training as a preventive measure.
Bartending License vs. Bartending Certification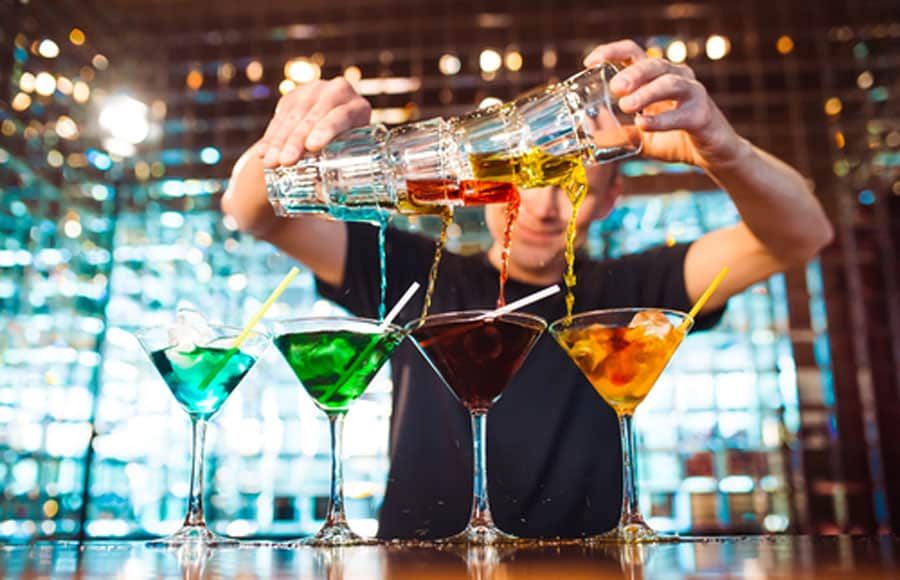 A bartending certificate is a document awarded by training providers to individuals who finish their bartending certification programs. They are not mandated by the state.
A bartending license, on the other hand, is a legal document that is required upon employment within states where they are required by law.
Bartending license courses teach basic alcohol laws and practical tips for handling and serving alcohol responsibly. On the other hand, bartending certification programs are more diverse in their offers. For example, there are bartending certification programs for mixology, flair bartending, and even on how to increase your tips.
Depending on the focus, bartending certification classes usually take longer to complete. Their costs also tend to be more pricey ranging from $200 to $600 or more.
What are the Requirements for Getting a Bartending License?
Age is the most important factor for determining whether you're admissible to a bartending license training program.
Most states require individuals to be at least 18 years old to work behind the bar, under certain conditions. To be sure, check with your state's authorized government agency. Aside from the minimum age requirement, you should be able to learn:
How frequently you need to renew your license

The typical cost of a bartending license in your state

Conditions for serving alcohol if you're below the national legal drinking age (21)

Whether or not you need to obtain a license first before working or you can obtain one during a certain period after getting hired
Meet the requirements? Learn more on our other blogs about how much a bartender makes, is bartending a good job, and bartending 101.
Where to Get a Bartending License
You can take a bartending license course via a certified provider either online or in-person. Because the topics covered in a basic alcohol awareness class are only the fundamentals, you can breeze through the whole course in less than 3 hours. Right after you've finished the topics, you can complete the final exam and get your license right there and then. Keep in mind to check your state's requirements first. Some states may permit the learning of the course topics online but only allow the final exam to be taken in a physical testing center.
Do Bartenders Make Good Money?
Depending on the venue and U.S state a bartender can make a lot of money in tips. According to the employment website Indeed, a bartender earns additional compensation of $150 per shift/day on top of their regular salary.
Is Bartending School a Waste of Money?
Bartending skills can usually be learned on the job. If you are worried about starting off with no experience learning how to barback is a great start. Helping a bartender on the job will not only get you paid but also provide you with the knowledge of what they are doing. Bartending school can help but it is not required since most restaurants or bars will hire without any experience. They can also be quite expensive.
How to Get a Bartending License and Certification Online
Jumpstart your bartending career by earning your license from a reputable alcohol awareness training provider. As you research to learn how much is a bartending license, we offer an affordable online option to learn on your own time. But also keep in mind that Serving Alcohol's training goes beyond the basics of alcohol awareness and carding techniques to deliver everything you need to know as an alcohol seller-server in your state.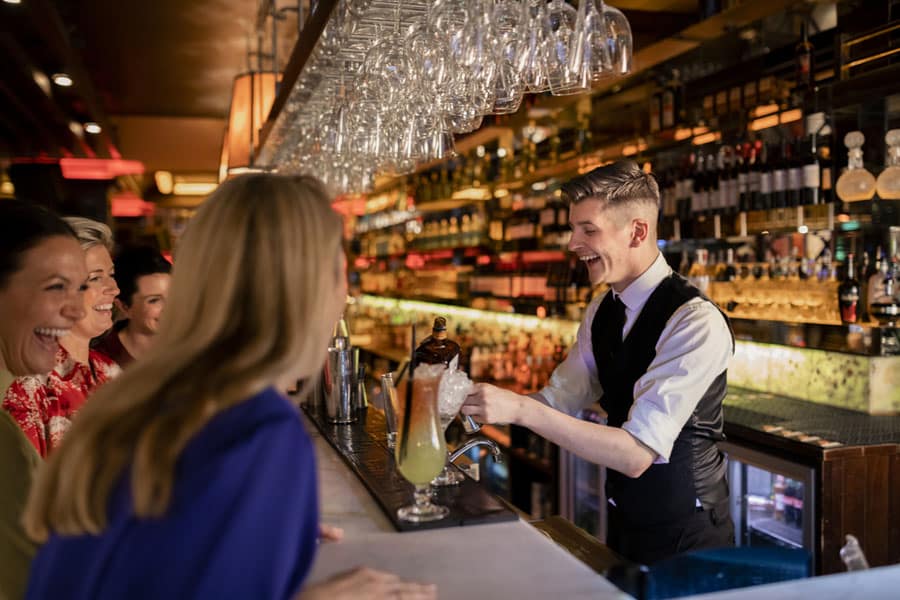 With over 35 years of experience in teaching alcohol certification principles, our recommended Alcohol Certification Training course offers in-depth knowledge that is easy to follow and understand.
Serving Alcohol's online bartending license and certification programs offer:
Online interactive and self-paced training
100% Pass Guarantee or get your money back
24/7 Customer Support
Check out Our Courses today or click on your state on the sidebar to learn more about the program details specific for that state.