The Bloody Mary is a brunch favorite and one of the world's best-known cocktails. Its red color can be attributed to its tomato juice base. It has many delicious variations. It pairs well with a hearty morning meal and even sometimes ends up being the meal itself. The origins of the Bloody Mary aren't very clear, though that is no surprise given there is vodka-first-thing-in-the-morning involved.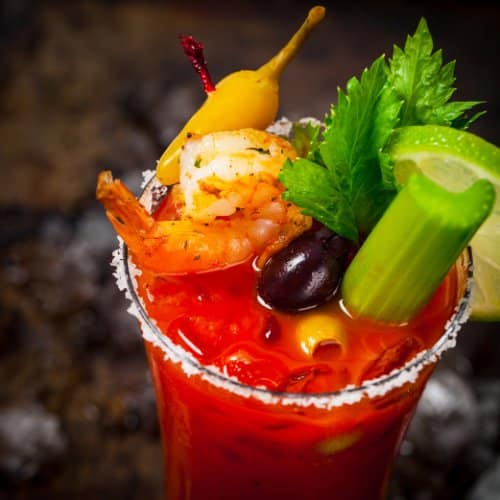 The story going around points the cocktail to around the 1930s. The name of the fine establishment and fellow who was credited with creating the Bloody Mary is Fernand "Pete" Petiot, at the King Cole Bar at a hotel in New York City. The original drink is said to include seven ingredients; tomato juice, vodka, salt, tabasco, lemon juice, Worcestershire sauce, and black pepper. A tequila variation can be substituted for vodka and is called the Bloody Maria. Switch it up with gin and you have yourself a Red Snapper.
Where the Bloody Mary has really grown in popularity are the elaborate garnishes that enthusiasts have put on top of the drink. The possibilities seem endless: Bacon, pizza, burgers, whole kebab strips! The drink itself becomes more of a meal and less of a cocktail, but there isn't a reason you can't have both!
To make this amazing cocktail, our Master Bartender course would help in navigating around a bar. Our Ultimate Guide to Bartending can help you on your way to becoming a successful bartender. It includes other cocktail recipes, how to work the bar, and has all you need to succeed. Also, check out our Breaking Down Series to explore other famous cocktails.
Ingredients in a Bloody Mary
Celery salt

1 lemon wedge

4 ounces tomato juice

1 lime wedge

2 ounces vodka

2 teaspoons prepared horseradish

1 pinch of ground black pepper

1 pinch of smoked paprika

2 dashes of Tabasco sauce

Garnish: celery stalk

Garnish: parsley sprig

Garnish: lime wedge
Steps on How to Make a Bloody Mary
Pour a bit of celery salt onto a small plate.

Coat the lip of a pint glass with a lemon or lime wedge. 

Roll the rim of the glass in celery salt until fully coated, then fill the glass with ice to cool it down.

Squeeze the lemon and lime wedges into a shaker to extract the juice. Make sure to drop them in as well.

Add the tomato juice, vodka, paprika, Worcestershire sauce, horseradish, Tabasco, black pepper, and a pinch of celery salt with ice and shake gently.

Strain into the chilled glass.

Garnish with celery stalk, a lime wedge, parsley sprig, and 2 speared green olives.