By: Bob Pomplun
When thinking of bar safety we like to use the Bubble Concept. With the Bubble Concept, your establishment is within a bubble where you patrol to provide a safety net for the operation.
This is done by continual monitoring of your facilities both indoors and out, including your front door and parking lot. First and foremost, your best set of eyes are those of your employees, along with cameras and other surveillance to ensure the safety and integrity of your business.
Parking Lots
The parking lot is the customers' first and last access to your establishment under your safe handling. This includes signage, lighting, and posted placards concerning loitering.
To help control parking lots you should: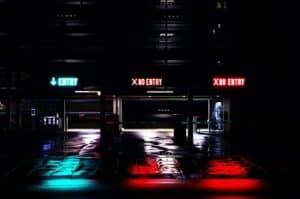 1. Post Signage including construction notifications, parking lanes, and enter or exit signs in parking lots that inform and instruct customers. Even maximum time limit signs can help reduce the amount of illegal activity that can occur.
2. Provide well-lighted areas in the parking lot to prevent the opportunity for crimes such as outdoor drinking, drugs, and sex trafficking. Be aware of "dark spots" where potential activity may occur such as behind dumpsters or dark alleyways.
3. Conduct security patrols during regular business hours, as well as, clearing the parking lot at night once the establishment has closed. This will help control crowds during the night when they are leaving the establishment. Security should exit and enter the establishment frequently to check the parking lot for fights, illegal activity, and people loitering on the property.
4. Be aware of the amount of crime that occurs on or near your property and the amount of police activity you can expect.
5. Limit after-hour access to control the area and prevent illegal activity.
6. If needed include videos cameras to capture faces, vehicles, and activities that can be reported to the police.
Front Door
A lot can go on at your front door. You're looking for intoxicated persons, individuals who may pose a potential security risk, and minors.
Controlling the front door is one of the best ways to rid the establishment of unwanted or dangerous customers. Many problems may be stopped at the front door. To help control your front door you should:
1. Place highly trained personnel on the door for checking identification and refusing entrance to possibly impaired people and minors.
2. Provide resources to front door staff such as notepads, entry refusal sheets, flashlights, cameras, refusal log book, and ID checking reference material.
3. Bright lighting in the entrance area is excellent at crime prevention and also assists in the process of checking IDs.
4. Encourage all servers/employees to watch as patrons enter and exit the establishment. Always thank patrons for entry and exit at the end of a visit.
5. Question all patrons before service to establish their intent, ID checking information, and level of possible impairment.
6. Be sure all hosts/security personnel are aware of the house policy about refusing entrance to impaired individuals that are attempting to gain entrance.
7. Know how to handle high-stress situations such as asking patrons to leave, evacuation plans, natural disasters, and fighting.
8. Video cameras to capture faces, identifications, and activities that can be reported to the police.
9. Be sure all employees feel empowered and know-how and when to get the manager to call the police. This can include being prepared to provide the following information:
a. Name
b. Name and address of bar and provide direction if needed
c. The number of customers involved.
d. The number of injuries.
e. Whether weapons are involvedf. If medical care is needed
This bubble ensures that customers can safely come in and out of your establishment creating regular patronage and higher tip rates. It also shows the neighboring community that you care about your business and the people it includes.
Most importantly it ensures that your business will continue without risk of licensing cancellation, revocation, or suspension. For more safety tips and tricks please check out one of your state level Alcohol Seller and Server courses provided by Serving Alcohol, Inc.
*This article is not meant to be legal advice. Each state varies and statues, laws, and regulations change regularly. Please refer to your local liquor
authority, alcohol beverage control act, or government agency in charge of alcohol for more information.*
Products