From Philadelphia to Pittsburgh we got you covered! Our course is approved by the Pennsylvania Liquor Control Board (PLCB). Act 113 of 2011 requires newly approved managers of certain license types to complete RAMP training within 180 days of approval by the PLCB unless training was successfully completed within the previous two years.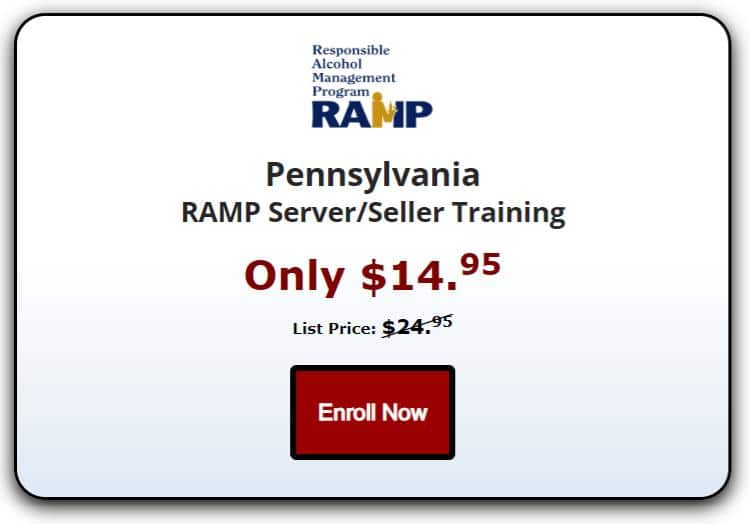 RAMP certification is recommended for bartenders, barbacks, servers and wait staff, restaurant/bar supervisors, restaurant/bar managers and owners, wine and liquor store cashiers, grocery store cashiers, and store supervisors, managers, and owners.
For more information on the Responsible Alcohol Management Program please visit our blog.
Did you know? ​​​​​​​​The Pennsylvania Human Relations Act prohibits discrimination based on factors like race, gender, and ethnicity.
You must take care not to unlawfully discriminate in choosing who you refuse to serve or bar from the premises.

Serving Alcohol
Serving Alcohol has over 35 years of experience in teaching alcohol certification principles and in-depth knowledge. You'll learn alcohol awareness, intervention techniques, server duties, carding procedures, and state laws regarding the sale or service of alcohol in the state of Pennsylvania.
All in a simple online alcohol server training course that is easy to understand. If you're a bartender, a waiter/waitress, or a server looking to achieve your bartender license or server permit, then our course is the one you'll need.
Online interactive and self-paced training

100% Pass Guarantee or your money back

24/7 USA-Based Customer Support