It tastes great, looks great, and it's easy to make. The Moscow Mule is a classic 1940's favorite that's still a hit to this day. 3 ingredients and a zero need for bar tools anybody can make this amazing cocktail at any time. At the beach to cool down, at a party, you name it! 
What's in a Moscow Mule?
Three ingredients make up the Moscow Mule:
• Vodka
• Ginger Beer
• Lime Juice
Ingredients
2 oz of vodka (any kind)
½ of freshly squeezed lime juice
6 oz of ginger beer
Due to the refreshing hit of lime and ginger this cocktail falls under a family of cocktails called a buck. A buck consists of liquor, citrus juice, ginger beer or ginger ale. It's an official cocktail on the list of the International Bartender's Association. 
Check out the Whiskey Sour, Sidecar, Long Island or Martini!
How to make a Moscow Mule
A cocktail shaker is not advised to make a Moscow Mule. Because the ginger beer is carbonated it would actually ruin the drink! Simply add vodka, lime, ginger beer and stir it inside a copper mug! It's one of the easiest cocktails to make. Don't forget the mint garnish!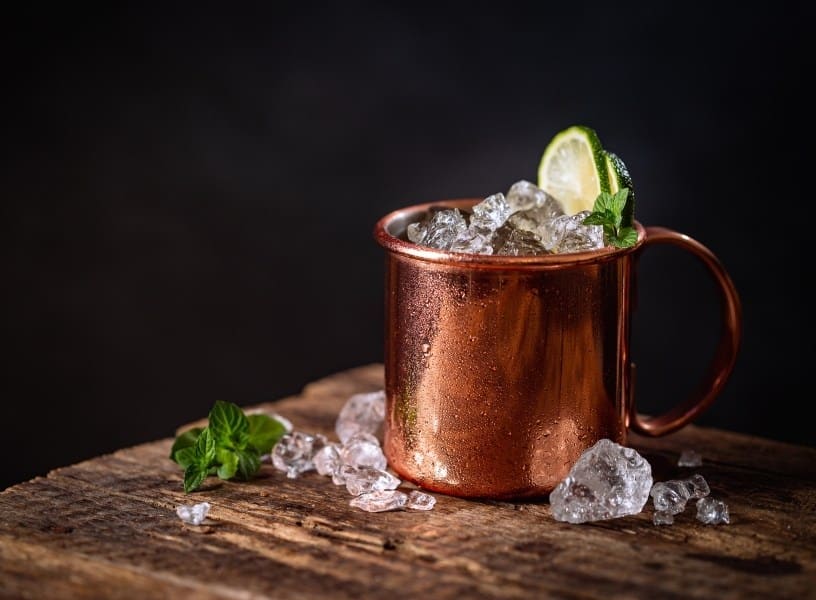 Directions:
Squeeze lime juice into a copper mug (we'll let you know why)

Pour vodka and ginger beer

Add ice and a lime or mint garnish
What are the Origins? 
In the 1940's the Moscow Mule was created to sell more vodka, ginger beer, and copper mugs. Celebrities in Hollywood were photographed drinking the refreshing cocktail with copper mugs. It's caught on ever since! 
The Copper Mug Distinction  
Why are Moscow Mules served in Copper Mugs? Because it looks cool (pun intended!) Well yes, but also for function! Copper mugs keep cocktails colder so every sip will always be just as cold as the first. A Moscow Mule can be made in any glass but a copper mug will always add to the experience.
Where to Get Copper Mugs
Solid copper is the only way to go if getting that authentic Moscow Mule experience. 
Some suggestions:
The Ultimate Set: A set of 4 solid copper mugs, copper straws and even wooden storage lids come with this bundle. 
PG Moscow Mule Mugs: Great for longevity, the stainless steel lining keeps the inside from ever chipping or affecting taste.
Different Kinds of Mules
With such a classic recipe the vodka in the Moscow Mule can easily be swapped with different kinds of liquor. 
Dark and Stormy:

Dark rum in a highball glass gives it a darker color. 

Irish Mule:

Use Irish whiskey for a spicy finish!

Gin Mule:

A combination of a Mojito and a mule

Mezcal Mule:

The mezcal and tequila give this variation a smoky finish

Mexican Mule:

The tequila and the ginger beer give this a super spicy finish!

Kentucky Mule:

Bourbon swaps out the vodka in this whiskey-based mule.

Apple Cider Mule:

Sweet and tangy it can be sipped anytime!
Learn how to serve this incredible cocktail by getting alcohol certified! 
Need a guide to learn how? We got you covered!
Check out our other amazing cocktail guides!