Mai Tais are just as awesome as "Muay Thai" the Thai Boxing sport. Each packs its punch in different ways! A Mai Tai may be a little more relaxing, however! Sit back, relax and sip on one of the most famous tiki drinks ever made. The Mai Tai is made with rum, orange curaçao, fresh lime juice, and orgeat. Orgeat is a nuanced almond-flavored syrup delivering a slightly nutty taste. 
The drink's invention was credited to Victor "Trader Vic" Bergeron. "Trader Vic" comes from the name of the bar he owned in the 1940s. Donn beach is another man that supported the creation of the Mai Tai in the 1930s. Vic's recipe called for a smooth, overproof Jamaican rum, J. Wray and Nephew. He later moved on to try his concoction with other rums to create a similar taste.
What is the Meaning of Mai Tai?
When the drink was first created, the person who tried it yelled: "Mai Ta!" Which means "very good" in Tahitian! 
The Mai Tai's primary purpose was to demonstrate the reason for using good quality rums. As time passed, other bartenders twisted the recipe and created an overly fruity cocktail that lost its way. The colorful drinks were ruined by bottled -not fresh- juices and cheap mixers. Now you know when a Mai Thai is too sweet, it wasn't made properly!
Even with all the fruity variations, the spirit of a true Mai Tai lives on! The tradition of blending rums to create the perfect combination of flavors is still kicking. Modern variations use a crisp white rum with a slight pour of a dark overproof rum on top. Other bartenders may use high-ester Jamaican rums and Rhum Agricole. High-ester rums are known for being fruity and having diverse aromas and flavors. Rhum Agricole is the french term for sugarcane juice rum. It is distilled using freshly squeezed sugarcane juice instead of molasses. 
When blending rums, check for their ABV, age, how it was made, and what was used to make them.
When all the ingredients are set, and the drink is ready to be made don't forget to add a garnish! Mai Tais can go well with many garnishes. Pineapple wedges, cherries, and a mini umbrella if you want to go wild! If you want to keep it classy a lime wheel and a mint leaf are the perfect choice. 
Mai Tai Mix Ingredients
1 1/2 ounces white rum
3/4 ounce orange curaçao
3/4 ounce lime juice, freshly squeezed
1/2 ounce orgeat (almond syrup)
1/2 ounce dark rum
Garnish: lime wheel
Garnish: mint sprig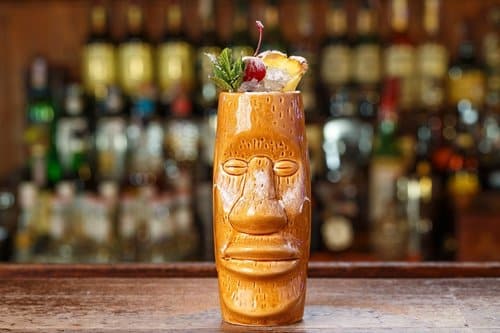 Steps on how to make a Mai Tai
1. Add the white rum, curaçao, lime juice, and orgeat into a shaker with crushed ice and shake lightly (about 3 seconds).
2. Pour into a double rocks glass.
3. Float the dark rum over the top.
4. Garnish with a lime wheel and mint sprig.