If you're looking for a sweeter twist to the classic Manhattan flavor, a Brandy Manhattan is another classic recipe you'll love. Just replace rye whiskey with cognac or brandy, mix in some sweet vermouth, add a dash of bitters, and you'll have a refreshingly sophisticated mixed drink with a distinctly unique flavor.
Which drinks are similar to Brandy Manhattan?
The original Manhattan cocktail was invented in the later part of the 19th century in the city of New York and has since been a popular bar staple. The original recipe is considered a classic with so many variations that playfully alter the distinctive strong and boozy Manhattan swag.
One easy favorite among these variations is the Brandy Manhattan. Swapping spicy rye whiskey for brandy or cognac will tame the sharpness of the original spirit. You can also mix in dry vermouth to counter the sweetness of the cognac and create a nice, balanced flavor.
Not a fan of either brandy or cognac? Try bourbon instead. The tinge of vanilla and caramel oak jives perfectly with sweet vermouth.
If you like your rye whiskey just fine, you can swap out the vermouth instead for an Italian amaro and you'll have a Black Manhattan.
Is Brandy Manhattan a Strong Drink?
All variations of the classic Manhattan cocktail are strong drinks because all or most of the main ingredients are alcohol. The whiskey base is also amplified rather than softened by the other components. On average, a Brandy Manhattan is definitely more potent than beer or wine.
How to Make a Brandy Manhattan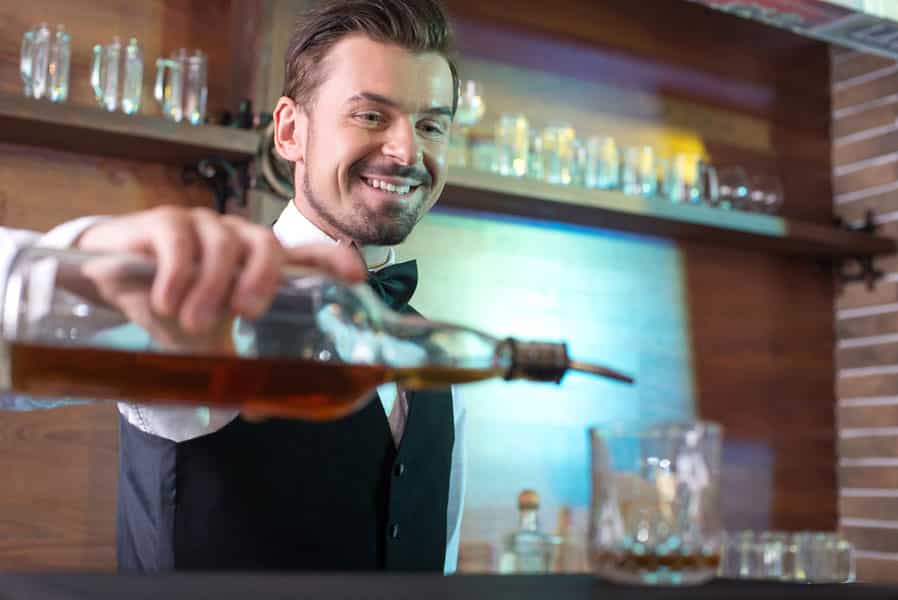 A Brandy Manhattan is an easy mixed drink recipe you can make at home. You only need:
2 parts brandy or cognac

1 part sweet vermouth

2 dashes of Angostura bitters

One maraschino cherry for garnish (alt. Luxardo cherry or lemon peel)
Follow these steps:
In no particular order, combine the cognac or brandy, vermouth, and bitters in any type of mixing glass

Add in a handful of ice and stir

Strain into a coupe glass

Garnish with cherry or lemon peel
Learn more Cocktail Recipes
Being able to fix your own killer shots is an amazing skill with real money making potential. If you think being in-charge of the bar is something you will enjoy doing, check out Serving Alcohol's Ultimate Guide To Bartending e-book and get tons of resources on topics including mixology, glassware handling, guest service, and more.
The whole course is entirely online which means you can learn at your own pace in your own time. A master bartender course is what you need to upgrade your potential into a real skill, whether you're looking to prepare for a career in bartending or simply want to impress your family and friends at dinner parties.
When you're ready for the next step, check out Serving Alcohol's exclusive Ultimate Guide to Bartending eBook for and get the Master Bartender FREE when you enroll.