An ice scoop is your best friend when it comes to making that perfectly chilled cocktail. Bar tools are there to make your life easier and your work a safer environment. Learn how these scoops can bring your bartending skills to another level. Be it the metal old reliable, a comfortable grip, or one with a drainage built-in, we are sure you will find one to suit your needs. 
Top 3 Ice Scoops
Best Metal Ice Scoop
This ice scoop is the old reliable of sturdiness, size, and price. Filling several cocktail glasses with the 24-ounce capacity would make this scoop quite useful for busier nights. The ergonomic handle feels good in the hands when gripped. The only caveat is that the handle may get a little cold.
Best Comfortable Grip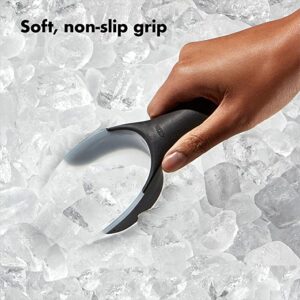 Oxo's Good Grips Flexible Scoop is by far the most comfortable of any of its competitors. While being on the smaller side at 8 ounces it is still quite versatile. The flexibility and rubber handle of the scoop make it easy and comfortable to use. Since the handle is insulated by the rubber it does not get uncomfortably cold.
Check out these other awesome Bar Tools
Best Draining Ice Scoop
The San Jamar is the Swiss army knife of ice scoops. With a hand guard your hand stays protected from coming in contact with ice. The drainage holes allow melted ice to pass through and not spill into your drink. From a purist perspective, it's the way to go for smaller events. At 6 ounces for the bowl, a perfect amount of ice will be scooped. Keep in mind it might take longer for several drinks!
Don't forget to regularly clean your scoop and ice bin at the end of each shift. If you are serving food, you'll need to know safe food handling practices. Please check out our Food Handling courses.
Check out our cocktail shakers to go along with the scoop!
Looking to become a Bartender or just more information? Look no further!
The Ultimate Guide To Getting A Bartending License