Cocktail Shakers Date Back from When?
Cocktail shakers have been around for centuries with the earliest dating back to 7000 BCE in pre-Hispanic Mexico and South America. With cocktail shakers having varying degrees of practicality and visual aesthetic the tin on tin has been deemed the best to use for this modern-day and age.
A cross between the Parisian and the Boston shaker, the tin on tin is the choice for most professional bartenders. The shaker consists of 2 shaker tins with one being slightly larger than the other so they can slot together to create a seal. This is similar to the Boston tin and Boston glass.
With the shakers being made out of metal, the likelihood of breaking or having to replace the shaker is decreased.
Because the cocktail shaker is 2 separate shakers there is an element of flair that can be achieved. Buy the 2 tins separately to choose different brands or colors to create your own unique style.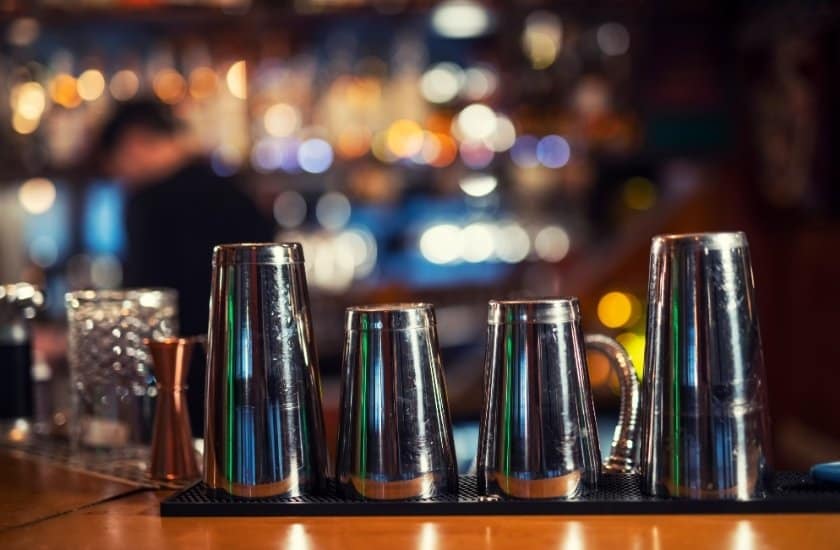 Cheater Tin
Upgrading a Boston Shaker? With the bottom half already acquired a Cheater tin or "Toby" tin is all that is needed. The cheater tin is a simple 16 oz metal cup that easily fits in a standard Boston tin.
Be careful when purchasing a tin to pair, sometimes the sizes can be different. This can be due to the fact smaller tins have been introduced to the market. A smaller Boston tin will usually be around 22.75 oz, read the fine print when purchasing, and make sure the Toby will fit a 28 oz Boston.
Pros:
Chill Faster

– full steel construction for a greater cooling capacity than glass

Better Seal

– steel is more flexible than glass, giving it a better grip on a second tin

Tough and Safe

– repeated drops and bumps will not break the steel tins

Sounds Great

– ice moving inside a full steel shaker has a greater musical rattle than a thick shaker glass which insulates the sound
Cons:
Professional

– not recommended for beginners

Mismatches

– buying different tins from different manufacturers might not necessarily mean they fit together
Know your way around the equipment of a bar with our Behind the Bar Rail series!
Recommended Tins:
Learn more about Flair Bartending here.