As more states start opening up across the United States, one common aspect seems to be appearing in regulations and recommendations, masks. Either the worker, customer, or both must wear them to dine and drink in bars and restaurants, But what's the difference between the various mask types and which kind should you invest in?
Surgical Masks/Medical Masks/Respirators
Surgical masks, specifically those rated N95, are said to be the most effective (80-90%). However, this type is what is widely used in the medical field. So purchasing them is not recommended as it could affect the availability of the medical industry that has the most need.
Cloth Masks
Not all cloth masks are created equal. Initially, the news was recommending bandanas, scarfs, or old t-shirts wrapped around your face. (One Houston news outlet even started the "banana mask" mistake which went viral on Facebook).
This option is highly recommended because the resources are easily accessible and do not harm the medical field. But the fabric and layering technique can make all the difference. During testing, it was found that cloth masks should be made of vacuum cleaner bags, a dish towel, or a material made out of a cotton blend.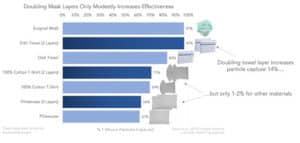 Further tests were done to find the effectiveness of fabrics when doubled. As expected, most fabrics performed significantly better. But one surprising fact is that a standard dish towel cloth face mask made with two layers is as effective as a surgical mask.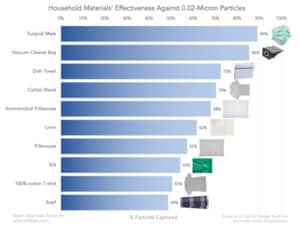 However, breathing through a double layer of dish towels is difficult, to say the least.
For long term wear with the most effective and easiest to breathe through, it's recommended that you invest in 100% cotton material in double layers. These types of masks can easily be purchased from friends, family, Etsy, or you can make your own using a template such as the one provided by the CDC. Just be sure to wash them in between use!
The Mayo Clinic recommends that you:
Place your mask over your mouth and nose.

Tie it behind your head or use ear loops and make sure it's snug.

Don't touch your mask while wearing it.

If you accidentally touch your mask, wash or sanitize your hands.

Remove the mask by untying it or lifting off the ear loops without touching the front of the mask or your face.

Wash your hands immediately after removing your mask.

Regularly wash your mask with soap and water in the washing machine. It's fine to launder it with other clothes."
Want a branded mask? Custom Ink is now taking orders.
Printable Resource: Important Information About Your Cloth Face Coverings (CDC)
Face Masks