Electronic IDs Usher in the Future of ID Checking
If your state isn't using mobile apps or electronic scanners to verify someone's identity, you should expect changes shortly. Only ten states have no mobile apps or electronic scanners to verify someone's identity. New York is working on legislation to take this process further. Does your state allow digital IDs or electronic ID scanners?
Why are we Seeing a Surge in Electronic IDs?
The Technology Modernization Fund (TMF) is a federal government investment program providing over $200 million to different projects to push technology forward. The TMF hopes to modernize information technology challenges in the United States urgently. Specifically, the adoption of zero trust cybersecurity, locking sensitive data away from any onlookers, making it possible to share information such as your face, address, and birth date on the web safely and more frequently.
In March 2022, Apple won the technology race to bring customers a digital identification feature, with Maryland and Arizona being the first two adapters. They were followed shortly by Google and their app Google Wallet identification feature in May 2022. Traveling through TSA is the only situation where identification can be used in both apps.
The National Institute of Stationads and Technology (a U.S. Department of Commerce subsection) is working through a fourth draft of "Digital Identity Guidelines," which would create federal standards. 
When you can and can't use Electronic ID Scanners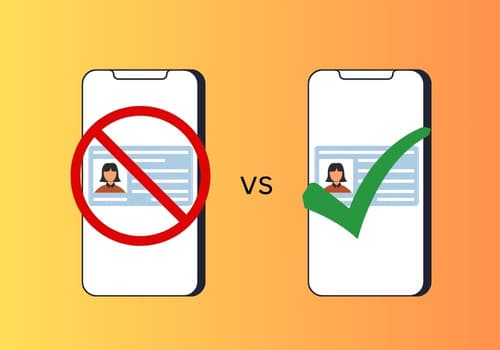 In most states that allow mobile IDs and electronic ID scanners, the law is expressly written or amended to existing ID checking laws. So, it's best to consult your state's statutes and laws. When in doubt, it's always best to physically inspect the ID (more on that later), even after using an electronic ID scanner. 


Even when an ID scanner/digital ID is allowed, it's always recommended to use a secondary process. One that brings in the human element of checking the ID. We suggest a comprehensive training program (such as one from Serving Alcohol) and continuous training as changes are rolled out.
Overall, adoption is slowed. Only five states accept mobile/digital identification when purchasing alcohol as proof of age. With a couple expected to introduce a program within the next year or two. However, these states will likely need to update their approach once the federal government finishes its guidelines. 
This data is relevant as of October 13, 2023.*


Here's a rundown of each state that is currently or will be in the future offered by Serving Alcohol:
List of States and Electronic ID Usage