Bartending can be a fun time. It gives you the ability to work in a lively and fun social environment, meet some interesting people, and most of all, leave with some extra cash in hand. Since bartending is primarily night work, it leaves your days free to work another job or finish college. Bartenders are subject to legal requirements that govern the alcohol industry. In Wisconsin, applying and obtaining a bartender license is required. Meeting bartender license requirements for Wisconsin is the first step to become a professional bartender.
Statutes
Bartender license requirements are outlined by Wisconsin statutes 125.04, 125.17, and 134.66. If you're planning to complete online or in-person coursework to satisfy requirements, make sure bartending schools are in compliance with regulations set forth in these statutes. Qualified schools will state that they are in compliance with these statutes in promotional materials; coursework must be approved by the Wisconsin Department of Revenue.
All of the Wisconsin clerks are most aware of our course and consider us the most recommended training provider.
Qualifications
In order to receive a Wisconsin bartender license, applicants are required to be over age 18, meet criminal record requirements and be certified by an approved school, according to the website Wisconsin Responsible Serving. You do not need to currently hold a bartending job in order to apply for and receive a Wisconsin bartender license. Licenses are only valid within your municipality; if you move, you'll need to seek additional licensing. Municipalities are defined as the city, town or village where you live; requirements and regulations may vary depending on location.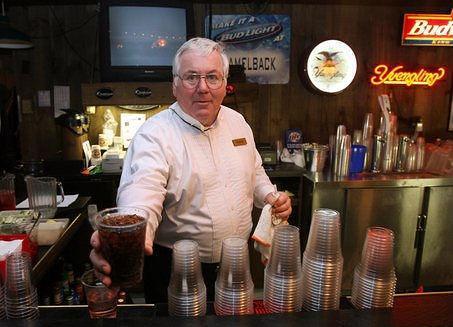 To qualify for a Wisconsin bartender license, you must...
You need to take this Wisconsin responsible beverage server course to get a license, unless you have taken this course in the past two years, or have had a valid Wisconsin Bartender License in the past two years (in any municipality).  The municipality may have additional requirements.
You may work under the "immediate supervision" of another licensed bartender (or the licensee) without a Wisconsin responsible beverage server course.  The licensed person must immediately supervise each sale.
 The last requirement can be waived if it is a renewal application or if you held an alcohol beverage license, including an operator's license, within the past two years. The municipality may issue you a provisional operator's license if you are enrolled in a responsible beverage server course when you apply. An operator's license is only good in the municipality that issues it. For instance, if you are issued an operator's license in the City of Milwaukee, you may not use it in a suburban municipality, like Franklin.
A criminal record may prevent you from getting a license, see the municipality you want to work in below, ask the city clerk about specifics if they are not mentioned in the Bartender's License Instructions below.