Tips Training Your Staff For Responsible Alcohol Service
We give you the tips to easily begin and complete your certification today.  Our courses are accredited as official alcohol or food handlers certification by the states they represent. Select your course by state or choose from the options along the right side.  Our Responsible Alcohol Manager, Master Bartender, Food Handlers, and Food Manager certification courses offer options to greatly save you more money.  For greater discounts and control, we offer courses by state for your Business.  Our Business Accounts give you a 15% discount on our already normal low price.  With it, you will have the ability to view your staff's progress.  Track daily, weekly, or monthly with our Organization Dashboard tool.  Easily follow who started their training, who had completed their training, and save or print each of their certificates.
The Most Reputable and Recommended Online Alcohol Certification Training
ServingAlcohol.com offers the best option to achieve your online certification for state alcohol training or food handlers certification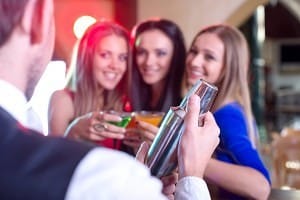 .  We go beyond simple alcohol awareness and carding techniques to deliver everything needed to know as an alcohol seller server in your state.  You deserve to know the possible implications that surround the service of alcohol.  You may be held personally responsible in the event of a negative or devastating experience.  Knowledge of how to handle certain situations is critical.  It's necessary for an individual or establishment to know all aspects that surround the service of alcohol. You have earned the right to know this information. A lot of responsibility rides on your shoulders.
Our alcohol server certification program prepares alcohol sellers to sell and serve alcoholic beverages on and off-premises responsibly. We offer a wide host of courses and bundles (combined with food safety handling courses) to suit your employment needs and business operations. We are the preferred alcohol training provider for many liability insurance carriers across the United States.
State health departments and liquor control commissions highly recognize the effects of alcohol on public establishments and their communities. Almost all local and state government employers require their workers to get an alcohol certified. You can get your alcohol certification by completing our state-approved alcohol seller and server program.  These courses equip you with techniques to protect you and your employers from administrative repercussions and  alcohol-related liabilities.
Required By State & Insurance Carriers
Most liability insurance carriers for alcohol serving establishments (restaurants, bars, taverns, night clubs, etc.) require all employees to be alcohol certified. They will require your staff remain current with state rules, regulations, and laws, in regards to the service of alcohol.  As a result, more businesses are requiring our alcohol seller server certificate as a condition of employment.
How to Get Your Alcohol Certificate
You can get your alcohol certification online easily with our training courses.  These courses will help you build your competency in liquor sales and service. Select your state from the map or list on this page. Our state specific alcohol training courses are accessible from this page.  From the moment you enroll, you'll be quickly and easily on your way today to completing your certification. You can take the course at your convenience.  You can easily finish the course today or span out your learning over whatever time in convenient for you. Receive your alcohol certificate immediately upon completing the course. We will be reporting your course credits to your local health department or liquor authority.
What to Expect
Our courses are designed by professionals in the and hospitality industry.  Over the past 30 plus years, we have become the most widely respected authority of responsible alcohol training by local and state authorities.  Our superior and accurate knowledge providing foundational knowledge and practical techniques in responsible alcohol sales and service.  We give you unbeatable personal one-on-one technical support from beginning to end.
Have Questions?  Click here to send us a message ...