Get a
FREE

 certificate and
a FREE wallet

sized card!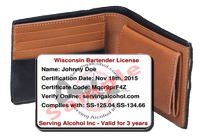 Complete your alcohol training entirely online in less than 3 hours from beginning to end
Use any Internet device - Windows, Macintosh, Android tablet or phone, iPhone, iPad
Free certificate email delivery, immediately upon course completion. 
Download, print, or email your certificate at no extra cost
Take a break and return where you left off. The system remembers what you completed
Access to course content for six months
100% pass guarantee, if you don't pass and we will refund your money
How to Setup a New Account
42 Years of Alcohol Training Knowledge and Experience
We take great pride in bringing you quality information.   We recognize that you are busy and alcohol training maybe not on the forefront of your mind.  We aim to give you accurate knowledge and quickly bring you "up to speed" with the most recent laws.  Some of our information may seem common knowledge.  But, as you do, we take your profession very seriously.   Your decisions, while serving alcohol, could make a dramatic difference in another person's life.  With a little of your time and our training,  we will help you become a safe server with a wider perspective on alcohol server training.
Serving Alcohol Inc provides thee industry leading training and services to Owners, Managers, Bartenders, Waitstaff, and Retail sellers of alcohol.  Our training incorporates decades or research directly from our staff because we have "been there" working in the alcohol serving environment.  You will learn all the "compliance" material and, as an added bonus, you will learn some hard won industry insights.  We work directly with the states that we represent so that your training is current, concise, accurate, and highly approved.  With our alcohol certification program, we give you the tools to learn to serve responsibly, a sense of responsibility, and respect for your community and your work environment. 
We are very responsive, if you have a problem, please contact us and we will work to resolve it ASAP.
Our interactive, high quality training is easy to get though.
Alcohol Awareness
Intoxication and alcohol elimination factors
The effects of blood alcohol content
Signs of impairment; poly-impairments and club drugs
Server Responsibilities
Monitor, card, intervene, and document
Duty of care; drinking is a privilege
SCAB customer unwanted behavior assessment
Carding
When and why to check ID
7 Steps of Checking IDs
Interventions
When to intervene
Intervention methods and techniques
State Alcohol Laws
Current State laws
Valid identification procedures and techniques
Surrounding states IDs