Georgia Alcohol
Server Certificate Course
Georgia Bartender License
Only $12.50

List Price:
$19.95
Georgia Alcohol Server Certificate Course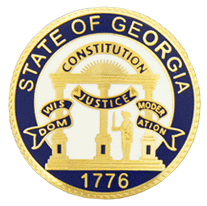 Our Georgia alcohol server certificate course certifies to sell and serve alcoholic beverages responsibly. Our Serving Alcohol Georgia Responsible Alcohol Server Course certificate simple and hassle free. This Serving Alcohol course is often referred as the Georgia bartender license or Georgia seller/server permit.
Since 1985, we have alcohol certified tens of thousands of individuals and businesses over the last 34 years. This course is created by former bar and restaurant managers, bartenders, and servers. Our training incorporates decades of research. Over the decades, we have worked diligently with the state department and liability lawyers to create the most reputable and recommended alcohol certification training.
We recognize that you are busy and alcohol training maybe not on the forefront of your mind.  We aim to give you accurate knowledge and quickly bring you "up to speed" with the most recent laws. Some of our information may seem common knowledge. But, as you do, we take your profession very seriously. Your decisions, while serving alcohol, could make a dramatic difference in another person's life.  With a little of your time and our training,  we will help you become a safer alcohol seller or server and increase your tips. Select your course, click Enroll Now, complete the course and print your free certificate and wallet card all within a couple of hours.
You will learn how to be a responsible server and seller of alcohol. Knowing how alcohol affects the body and how to recognize the effects of alcohol with your customers is key as knowing how to intervene when as customer has had too much.  Knowing how to accurately check IDs and to recognize minors who to use them is taught within this course. Overall, you will know how to protect yourself and the establishment from liability.
Easily Complete It Today
This course takes 3 hours or less depending on the individual. It's easy to begin and complete in one sitting or take our training course at your leisure. Leave and come back to the course as many times as needed.  When you return, the training will pick up where you last had left.
Use Any Computer Tablet or Smartphone
Our courses can be completed on any computer, laptop, tablet, or cellphone. Your certificate is available to you immediately upon completion as an emailed PDF file.  Complete it tonight and email to your manager before going to work tomorrow.  Select your course, click Enroll Now, complete the course and print your certificate!
Required By Most Insurance Carriers
Most liability insurance carriers for alcohol serving establishments (restaurants, bars, taverns, night clubs, etc.) require all employees to be alcohol certified. They will require your staff remain current with state rules, regulations, and laws, in regards to the service of alcohol.  As a result, more businesses are requiring our alcohol server certificate as a condition of employment.
Our alcohol seller server certification course gives you with the tools to sell and serve alcohol responsibly. Additionally, you will learn:
The effects of alcohol on your patrons

Keep customers from becoming overly intoxicated

Intervene when you need to refuse a sale

Prevent intoxicated customers from disturbing others

Properly check IDs and to recognize minors

Prevent second-party sales

Protect yourself and the establishment from liability
Our Alcohol Training Course
Serving Alcohol has over 35 years of experience in teaching alcohol certification principles and in-depth knowledge. You'll learn alcohol awareness, intervention techniques, server duties, carding procedures, and state laws. All in a simple online alcohol server training course that is easy to understand. If you're a bartender, a waiter / waitress, or server looking to achieve your bartender license or server permit, then our course is the one you'll need.
100% Online interactive and self-paced training
<100% Pass Guarantee or your money back
24/7 Customer Support Center
You'll learn how to:
Protect yourself and establishment from liability
Recognize the effects of alcohol on your customers
Prevent customers from becoming overly intoxicated
Intervene when you need to refuse a sale effectively
Prevent and deal with disturbances
Accurately check IDs and recognize minors with fake IDs
Prevent second-party sales
React with authorities when a problem arises