Fresh mint, limes, lemons and berries, can make an ordinary cocktail explode with flavor once their juices are carefully pressed. This careful extraction can be made possible with a muddler. Incredibly popular drinks such as the Mojito, OId Fashioned, and Caipirinha all call for the use of a muddler. 
What is a Muddler? 
A muddler is a bartending tool used to mash and mix (muddle) cocktail ingredients. It is a stick made from different materials and measures between 6-8 inches in length. Some of these materials are wood, stainless steel, and plastic. The length makes it perfect for easy handling and getting to the bottom of the glass. 
Looking for awesome bartending guide?
Wood Muddlers
Most muddlers are wooden and have been used to muddle cocktails ever since the first cocktail drinks were mixed. There are 2 types of shapes a wooden muddler may come in. The first looks similar to a bat with a flat bottom and the other is simply straight. Wooden muddlers are a great choice but need higher maintenance due to water buildup that may occur. 
Simple tips for taking care of your wooden muddler:
Do not put a wooden muddler in the dishwasher or near standing water. 

If working with berries or other fruits wash the muddler to prevent staining. It is normal for some staining to occur over time.

Always air dry before storing. 
Steel and Plastic Muddlers
A wooden muddler will always be the original. Other synthetic materials such as plastic or steel are still widely used. The main advantage of using these materials is convenient cleaning. When crushing berries or fruit, the juices will not stain or soak into the material. Water will also have a hard time finding its way into small porous places. This makes mold build up nonexistent. As an added bonus they are dishwasher safe.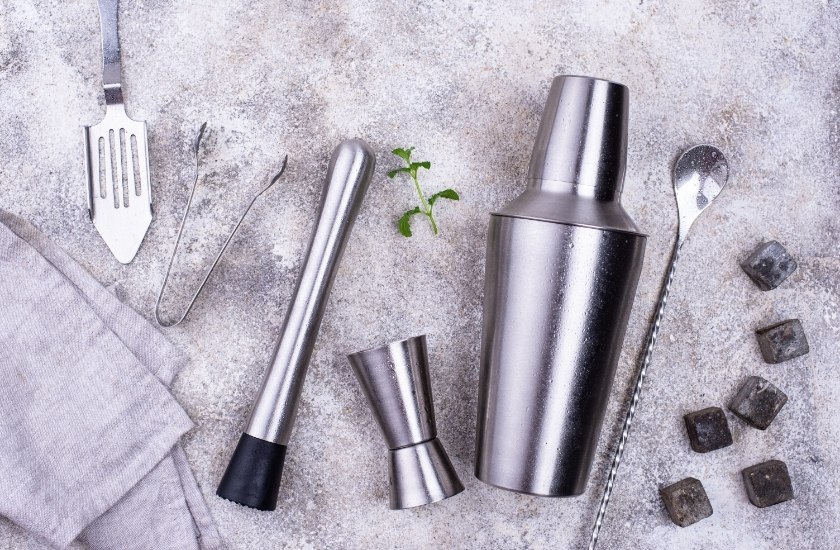 Easy to clean

Durable

Do not stain
Which Muddler should I use?
Depending on the cocktail, a wooden or stainless steel muddler will have different effects. 
Wood will be easier on leaves or delicate herbs. If a gentle touch is needed a wooden muddler is definitely recommended. It can still answer the call when a tough job such as cracking ice is needed however.
Wooden muddlers are great for gentle tasks

Stainless steel or plastic can crush harder ingredients without damage
For tackling all jobs and for the long term, we recommend going with stainless steel. 
How to Muddle
When muddling, it is important to keep in mind to not mash the ingredients. A gentle touch is recommended, with varying degrees of pressure depending on the contents. A mint leaf for example would not need a lot of pressure. Extracting the juices, oils, and fresh flavors is the main key focus. 
Place ingredients at the bottom of the glass. 

Gently twist and put pressure with half turns.

Continue and repeat the motions 4-6 turns until the cocktail ingredients have been muddled.

Put together other cocktails ingredients (liquor, ice, if required) and follow the rest of the recipe on making the drink.