How to Get Your Oregon Food Handler Card
Getting an Oregon food handler card could not be easier. Click on Enroll Now and complete the course with 90 minutes or less. Next, print your Oregon food handler permit. Sometimes, you might need to complete an application to get your permit with the city clerk's office. In any case, you'll need to present this completed Oregon food handler certificate before going in.
You'll learn what is needed to prevent foodborne illness for your customers where you're at work. So once you have your certificate, you can use it to show your employer and state health officials that you understand food safety best practices.
Get Your Oregon Food Handler Card
The course is about 90 minutes. So, people easily complete it in a less amount of time. You complete the course in one sitting or come back to complete it when you have time. Logout and log back in as many times as needed. Learn at your own pace at anytime, anywhere and on any computer, tablet or cell phone.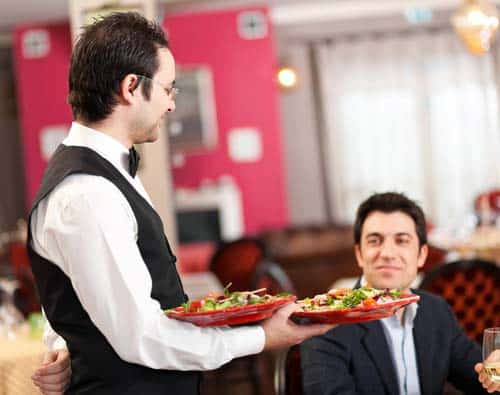 Oregon Food Handlers Card
Serving Alcohol has paired with the leading food certification training provider, Tap Series, to provide the most authoritative Oregon food handlers card certification program. TAP Series is an online food handling and management educational company with a 12-year history of providing exceptionally high-quality courses and content. Fortune 500 companies, universities, colleges, government, military, and individual students have all utilized their certification training.
Click here

for Oregon Food Handler Card Training Learning Outcomes.

Click here

for frequently asked questions about Food Handler Card Law.

Click here

 to read about Food Handler Training Policies and Procedures.
What is a Food Handler?
A food handler is anyone who works or handles food and/or surfaces that are likely to be in contact with food such as cutlery, plates and bowls within a business that sells or serves food. A food handler may work in many different roles such as waiter, waitress, bartender, server, chef, or manager within this business.
Do I need Oregon food handlers training?
All Oregon food handlers (part-time, full-time or temporary) must obtain food handler training certification.  Oregon does require all food handlers to be certified with this training course within 30 days of beginning work.  Many have to be accredited through the American National Standards Institute (ANSI) in food handler training.
What are the responsibilities of a food handler?
Food handler are responsible for cooking, preparing, serving, packing, displaying and storing food. They must follow any safety instructions issued by an employer, and conduct their duties in such a way so that they do not affect the health and safety of themselves, work colleagues, customers or their employers.
How long is the Oregon food handler course?
On successful completion of the course, we provide the trainee with a downloadable certificate and the Oregon food handlers card. The certificate is provided for the establishment and the food handlers card is for the employee, mailed to your home address by the US Postal Service or downloaded after completion.
The course and examination take approximately two hours to complete. It's very easy and the course will walk you through from beginning to the end.
Can I use my cellphone to take the course?
This course can be started and completed using any computers, tablets and smartphones that have Internet connection without the need for any other downloads. Do not buy the Food Handler Training if you hold a valid Food Protection Manager Certification pursuant to current food safety law.