Bartender & Server & Manager Required RBS Certification
California RBS Training

California Bartending License
Special Discount
Only $10.99

List Price:
$19.95
45% off
California RBS Certification
As of February 2022, we have been officially approved as a renewed certified training provider by the state for our California Responsible Beverage Service (RBS) Training Certification. We are known as the most reputable and recommended training provider for California bartending licensing. Since 2012, we had been a state approved Responsible Beverage Service training program provider that is backed by over 35 years of experience with alcohol certifying individuals and businesses since 1985. As of July 2022, the state will require all bartenders, servers, waiters and managers who serve alcoholic beverages to take a newly approved RBS certification course provided for you here. Use any computer, tablet, iPhone, or Android device. We easily guide you on how to get your bartending license in California. It starts with our state approved RBS Training California course. Start now and easily get RBS certified!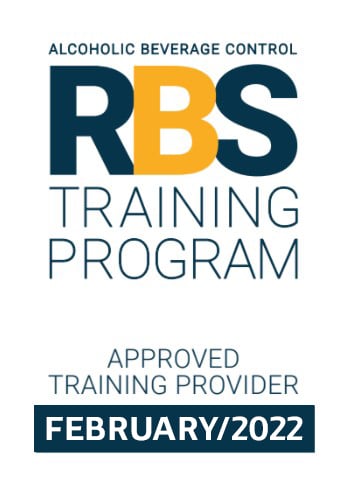 What is RBS certification?
RBS stands for Responsible Beverage Service. Many states have adopted their own responsible training certification programs. As of 2022, California ABC requires anyone who serves alcohol to be California ABC RBS certified. Previously, California had not required alcohol certification and to know California liquor laws. That has changed as of July 1st, 2022. After you complete our course today, your California RBS portal account will allow you to take the ABC RBS exam to complete your state certification. By taking our course, you'll be able to easily get all the RBS training program answers correct on the exam and get your CA alcohol certification today.
How do I get RBS training certified?

Register in the California ABC | RBS portal as an alcohol server

(this includes managers of alcohol servers)

.
Take our California RBS training course online in English or Spanish.
Take the final exam in your RBS account after completing the course
All can be done within 2 hours or less. We easily guide you on how to become a bartender in California with our self-paced course. Start now and easily get RBS training certified.
ABC Certification or RBS Certification?
The two terms are really one in the same. The state of California has a department called the Alcoholic Beverage Control or California ABC. The new program is called Responsible Beverage Service certification or RBS Certification or RBS Training. So, RBS certification is often referred to as ABC certification and vice versa for the state of California bartending license.
California Responsible Beverage Service
Frequently Asked Questions
Business Account

Certify Staff with 15% Discount
Easily Train & Track Their Progress

Proprietary Security Officer
(PSO or PPSO)
The State of California mandates that all in-house guards or bouncers, known as Proprietary Private Security Officers (PSO) under the law, complete 16-hours of job-specific training as part of their licensing process. This requirement can be satisfied online through our interactive course. BSIS Approved 16-Hour Online PSO Training.

ANSI-accredited online
Food Handler Training course
California Food Handler Card
Only $9.95

List Price:
$12.95
Beginning July 2021, the Responsible Beverage Service Training Act of 2017, AB 1221, will mandate that all alcohol servers or managers at on-premises establishments must complete a California alcohol server training course. This certification course is often referred to as California responsible beverage server training, California bartender license, or California RBS server permit. Our seller server course strictly follows the guidelines provided by the California Department of Alcoholic Beverage Control to train you how to become a bartender in California, or an alcoholic beverage seller server. This alcohol training course is commonly called the California bartender license or California seller server permit. Since 1985, we have diligently offered alcohol training to certify hundreds of thousands of individuals and businesses. This course is created by former bar and restaurant managers, bartenders, and servers. Our alcohol training certification incorporates decades of research and renders the rules, regulations, and California liquor laws set by California Department of Alcoholic Beverage Control for responsible alcohol service.
For over a decade, we have collaborated with the California Department of Alcoholic Beverage Control and liability lawyers to create the most reputable and recommended alcohol certification training. We cover topics in our California bartender course about how old you need to be to become a bartender and how to get your bartender license. For reference, we have a web page dedicated to some helpful bartender career statistics in the US. For general information on obtaining a bartending license (not specific to any state), see our Ultimate Guide to Getting a Bartending License.

Advantages to our online course:
Easily complete at your own pace
Login and out of course as many times as needed to complete
Up to 6 months to complete your course
Only 70% to pass and get your certificate
Retake final exam until pass if needed FREE
Immediately download & email your certificate for FREE
The Responsible Beverage Service Training Act - AB 1221, mandates that all alcohol servers, bartenders, and managers at on-premises establishments complete an approved California alcohol server training course and pass the exam at the state's RBS portal. This certification course is often referred to as California RBS training, RBS certification, or California bartending license.
We recognize that you are busy and alcohol training maybe not on the forefront of your mind. We aim to give you accurate knowledge and quickly bring you "up to speed" with the most recent laws. Some of our information may seem common knowledge. But, as you do, we take your profession very seriously. Your decisions, while serving alcohol, could make a dramatic difference in another person's life. With a little of your time and our training, we will get tips to become a safe server. Select your course, click Enroll Now, complete our course, and get your certificate from the RBS portal all within a couple of hours.
This California alcohol seller server course gives you with the tools to sell and serve alcohol in California responsibly.  With our course, you will not only protect yourself but the establishment where you are selling and serving alcohol.  Additionally, you will learn:
The effects of alcohol on your patrons
Keep customers from becoming overly intoxicated
Intervene when you need to refuse a sale
Prevent intoxicated customers from disturbing others
Train Your Staff to Check IDs Properly for Fake IDs
Prevent second-party sales
Protect yourself and the establishment from liability
Roger B. Johnson
Agent of the Year - National Liquor Law Enforcement Association
,
I have spent nearly 40 years working for Wisconsin's Alcohol and Tobacco Enforcement division. From its onset, I was involved in developing Wisconsi
Read more
James
Hands down the fastest customer service response and resolution I've ever experienced, Awesome! Thank you
King of Diamonds
Thank you so much!!! I love the manager course. Every new employee we hire will be doing the Alcohol Awareness course before they can work... We work
Read more
Bayside Tavern
Bayside Tavern

,

,

All your help was so GREATLY APPRECIATED!!!!!!!  I will highly recommend this course and company to all fellow tavern/bar owners that we know and mee

Read more
Ben
Best course ever with amazing discounts. You get the same license spending a regular $30-$40!!
Steve
"I didn't think I could have been easier. Thank you so much".
Vivian
Thank you for your quick help today. I have referred 2 more coworkers to your website yesterday.
Dan
It's the best site to go to get your bartenders license, I might have increased my chances in getting a very hard to find job.
Lucas
Customer Service is TOP NOTCH!! Thanks, Tony
Jennifer
They have the BEST customer service! I have never had to wait more than an hour, (even at night!), for someone to get back to me if I had a question o
Read more
Jessica
Looking for other options, I came across Their rates are extremely competitive and they have the BEST customer service! I am a long-time restaurant m
Read more
Holly
I liked the audio and the arrow to move forward when ready. Very good information. 😃
Trevor
I WOULD TELL OTHERS ABOUT THE COURSE 🙂
Denise
Extremely thorough on all pertinent information!
Christine
Good course, learned a couple things. Which is saying something since I am experienced.
John
Great course i learned everything i needed.
Monica
It gave me examples of what I need to learn and study in order to land a bartending job.
Jason
I give this course a solid A for its overall value.
Robert
I learned much more in your course than I did when I took a physical class 3 years ago. I would recommend your course to anyone. I'm really glad
Read more
Chris
I learned a lot from this course and feel much more confident about my new job.
Monica
great site and course, easy to use.
David
Excellent study will definitely recommend.
Justin
This was a good wake up to things I did not know.
Tim
The information was really easy to follow! I loved it.
Steven
It's all good. I will have our 12 other employees take this course. Thank you!
Swett & Crawford
This is to confirm Serving Alcohol, Inc is our top trainer for alcohol awareness in the Midwest. Over the past 25 years we have received nothing but
Read more
Dolliff, Inc
I have had the opportunity to work with (SAI) for over 28 years.  As an independent insurance agent I represent several carriers that offer liquor l
Read more
District Court Judge Dehn
<img class="size-full wp-image-70339 alignright" src="https://servingalcohol.com/wp-content/uploads/2016/12/Dehn.jpg" alt=&quot
Read more
Corporate Four Insurance Agency
Our customers have used and Serving Alcohol, Inc. for over 20 years at our agency with great success! We have over 32 different insurance carriers an
Read more
Christensen Group Insurance
Christensen Group Insurance

,

The Christensen Group represents several dozen insurance carriers that write restaurants, bars and stand-alone liquor liability.  We also provide ris

Read more
CBIZ Insurance Services, Inc.
CBIZ Insurance Services, Inc.

,

I have been working with since the 90's and he is probably the most knowledgeable and best prepared for alcohol awareness in this state. I also own

Read more