The following is a collection of video tutorials to assist with your learning.

As a Business Account Administrator
This is a quick video on how to use your business dashboard if you an administrator with one of our business accounts.  It's a handy tool as the administrator of your account.
Use it to:
Track your employees' progress with their certification
See who has started their certification course
Check on who has not completed their certification course.
Use it to follow up and get them to complete it.
Check on who had completed their certification course
If they complete their certification, you can print each person's certificate from one webpage.
As a bonus to our California business accounts, the dashboard shows each staff person's RBS Server ID for your records. Use it to check and verify under your business California Alcoholic Beverage Control RBS portal.
Read More about it below the video
How To Use Your Business Dashboard & Check Your Staff's Progress
As the administrator of the business account, you will want to keep track of your staff's progress with their alcohol certifications. Our Organization or Business Dashboard is an easy-to-use tool for checking on them and saving each certificate for your files. As a quick tutorial, follow the steps below.
Login Info:

From our homepage, click on the Sign In button at the top of the page
Enter your administrative login information

Username: your email address
Password: your password
Login to your account as the administrator of the account.
2. Click on Business Dashboard on the left.

3. Scroll down the page to view all your certified employees.
4. Click on the red PDF symbol for any of your employee's certificate.​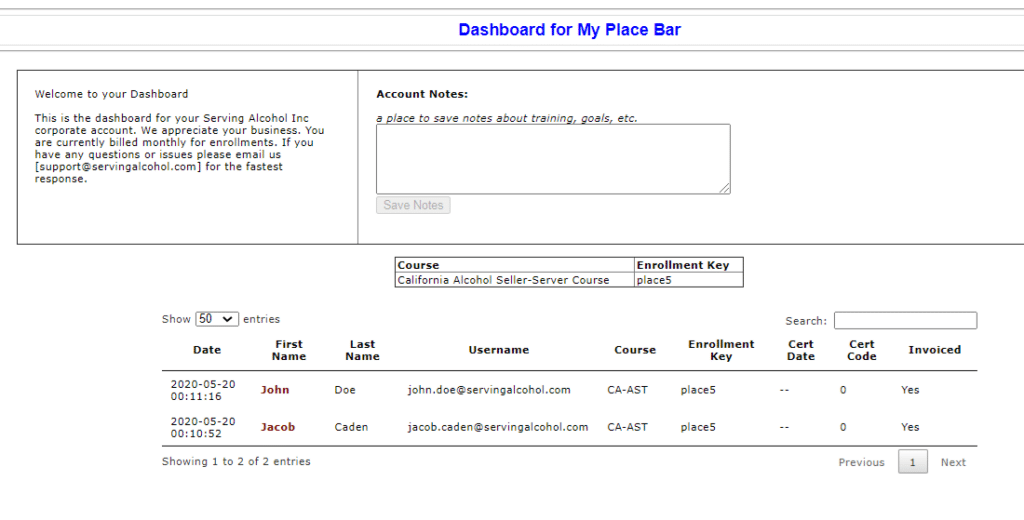 5. When the PDF of the certificate appears, click on the Printer icon
or the down arrow to save it to your computer.
A Step-by-Step Guide to Register Online for Our Courses
Following this simple guideline will help avoid problems in the registration process and ensure faster response to begin. Please consider the following instructions to complete your registration:
To Start and Enroll into your course, follow these steps:
Click on our homepage at www.ServingAlcohol.com
​Select your state from this link:  ​State ​Courses
After clicking on your state, another page will open with your state's course
​Click on Enroll Now button near the top of your state's webpage
Enter your email address and ​click the button:  Register  (if you been with us before, the Sign In button will appear instead)
Create a password for yourself
If you been with us before but forgot your password, click this link:  Forgot your password?
Register yourself entering your name, address, and date of birth.
Pay for the course with credit card, PayPal, Google Pay
Click Go button
Wait for the payment to process.
When ready, it will lead you to start your course
You can always return to your account and course from our homepage at www.servingalcohol.com and click the Sign In button at the top of the page.
Before registration:
Before filling the online form, please make sure that you have all the needed information. The more information you provide on the form, the faster we can process your registration.
Only ONE COURSE can be selected for registration at a time.  After you have set up your account, you can enroll into another course by entering the email address and password that you had created.
If your place of employment has created a BUSINESS ACCOUNT with us, before filling in the form, be sure to know the ENROLLMENT KEY assigned to your account.
If your account (Email & Password) has stopped working, DO NOT REGISTER again.  Send a request for help through our CONTACT US page and explain the problem. We will work with you to reactivate your access.
Do NOT FILL OUT MULTIPLE REGISTRATIONS while you wait to hear from us. This might cause more issues than it will help.  Wait for us to contact you by using our CONTACT US page.  Tell us your specific issue and we will help resolve it ASAP.  We want to get your certified as quickly as possible and we have your best interests in mind.
a WELCOME MESSAGE to Serving Alcohol is sent to you by email.
Below is a list of compatible devices, computers operating systems, and web browsers. 
Do not use the following browsers:
Internet Explorer

Facebook app

Samsung web browser

They do not work well with interactive online training courses. If you currently use any of these web browsers, please switch to the native Google Chrome on your Android device or Safari browser on your iPhone or iPad.  You will have a better and quicker user experience. 
Compatible Computers and Devices:
Windows 7, 8, 10 or 11

Mac OSX or better

Android based tablet or phone (version 7.0 or better)

iPhone 6 or better (iOS 12 or better)

iPad 4 or better (iOS 12 or better)
Use These Web Browsers:
Google Chrome ver. 70 or better

Mozilla Firefox ver. 60 or better

Safari 11 or better

Microsoft Edge version 80 or better
We highly recommend Google Chrome when taking this course.  It's much faster and more efficient with interactive training courses.
Do not hesitate to contact our Technical Support with any questions or problems during registration!