Posts Tagged 'alcohol laws'
Representatives from colleges throughout Illinois attended the Illinois Liquor Control Commission's (ILCC) 9th Annual College Town Summit, held on November 9, 2017 at Western Illinois University. Presentations focused on timely topics pertaining to alcohol-related issues on college campuses.
Bob Pomplun from Serving Alcohol Inc. is one of our speakers this year.  As an industry expert, Bob Pomplun conducts a break out session concerning the alcohol server training for the state of Illinois Basset alcohol course.
Topics included: Neurological effects of alcohol, binge drinking,
sexual assault, prevention and recovery on college campuses.
For the second year in a row, the summit included a student
panel and expo. The ILCC would like to thank the staff at Western Illinois
University for hosting the event. 
Virginia hunters can now choose to wear pink in the woods. Indiana residents will no longer be able to avoid positive drug tests by purchasing fake urine. And South Carolina distillers can now legally mix their spirits in their tasting rooms.
Those laws are among the hundreds that went into effect over the weekend as most states begin their new fiscal years. While most states ratified billion-dollar budgets and tackled complex issues like health care and the opioid epidemic, legislators also found time to address more mundane issues.
In Virginia, legislators gave hunters some new fashion choices. Those who spend their weekends tramping through the woods can now opt to wear fluorescent pink clothes, along with blaze orange.
© Provided by The Hill Booze, braids and more: Odd state laws take effect.   After the hunt, Virginia residents could choose to imbibe some stronger spirits. One new law allows state-run liquor stores to sell 151-proof spirits. Another law allows beer to be delivered to parked vehicles, for the tippler on the go.
In South Carolina, distillers may now sell their customers up to three 750-milliliter bottles of hooch. Previously, distillers could only sell one bottle per customer.
Those who want to consume spirits at distilleries in Charleston or Columbia or Spartanburg may now mix their drinks in those tasting rooms.
Tennessee residents may be free of the hassle of too many automated sales calls. A new state law will charge telemarketers with a class A misdemeanor if they spoof caller identification technology to appear as if the calls are coming from a government office or a bank.
South Dakotans will be able to get their hair braided without the onerous process of obtaining a state license. The law was inspired by Rachael Gorsuch, a woman hit with a fine after she braided hair in her own home without a license.
Indiana legislators who still want kids to learn cursive handwriting in schools will poll teachers on whether script is still necessary to teach.
Another Hoosier State law bans the sale of synthetic urine. Synthetic urine, used to avoid positive drug tests, had been available for sale at some stores.
"It's pH balanced, it has all the trace minerals and nutrients that are found in urine and it is very, very difficult to detect," Indiana State Rep. Greg Beumer (R-Modoc) said during a legislative hearing.
The technology can measure and charge literally by the sip.
Your next draft might be pulled not by a bartender — but by you.
A small but growing number of gastropubs and fast-casual restaurants are going self-serve, installing systems that enable drinkers to draw their own taps, similar to the soda fountain at McDonald's but far more sophisticated.
Establishments in the notoriously low-margin restaurant industry say the technology not only cuts labor costs but also boosts revenue by encouraging customers to sample what can be a bewildering array of Belgian quads, India pale ales or oatmeal stouts on a menu.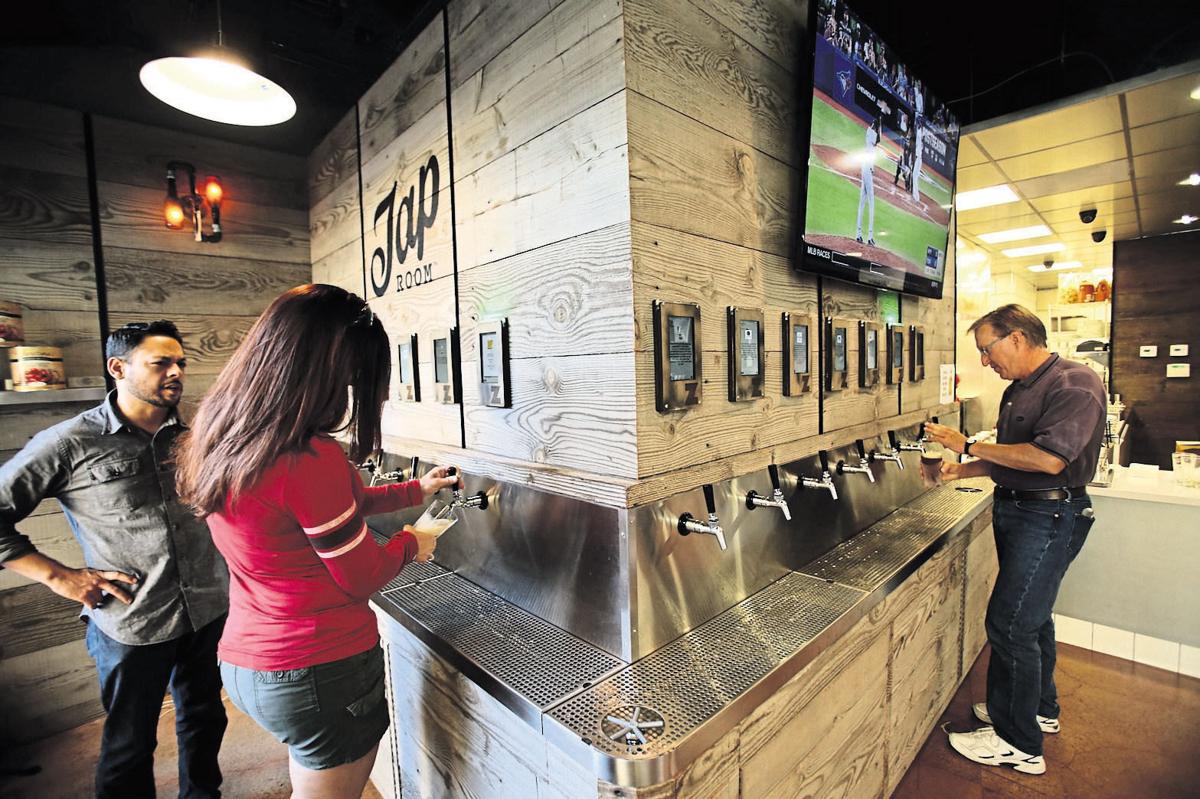 Sean Hale, general manager of the recently opened Oceanside pub, said customers pay for what would be free samples at traditional pubs while making it simpler to try exotic brews.
"They love it," he said. "It's about tasting all these different beers and the fun of exploring."
Fast-casual sausage joint Dog Haus is on board too. The chain has a four-tap self-serve system at its Santa Ana store, and a six-tap one is coming soon to a location near California State, Fullerton.
Quasim Riaz, the chain's co-founder, said that with customers charged by the 10th of an ounce, there is less waste. Customers tend to be more careful than a bartender who might be prone to spill, over-pour or give away a beer "on the house," he said.
"In theory, you get a 100 percent yield on a keg," he said.
Both establishments installed systems from iPourIt, a Santa Ana company that is one of the leading providers of the technology.
"Our goal is to really redefine the concept of craft beer dispense," said company co-founder Joseph McCarthy.
Its system, like others, requires drinkers to provide an ID to receive a wireless bracelet or card that enables them to operate the tap. Providers sell table- and wall-mounted systems, along with mobile units for fairs and sporting events.
But some labor is required to ensure that establishments are not selling beer to inebriated customers, which can pose a legal liability. After a customer drinks a certain amount — usually two full beers — an employee has to determine whether they are sober enough for more.
The technology runs about $25,000 for a wall-mounted, 20-tap system, plus a monthly maintenance fee. But if they prove profitable, the systems could become ubiquitous across an industry in which online ordering and reservations already are popular, said Brandon Gerson of restaurant data firm CHD Expert.
"A system like this didn't even exist 10 years ago," he said. "I don't see why they wouldn't have the potential to become just as standard as a booth."
It's unclear how many self-serve beer locations there are nationwide, but McCarthy said iPourIt is in 42 locations in 23 states and two Canadian provinces. Fourteen of those are exclusively self-serve with no bartender.
Josh Goodman, of rival PourMyBeer in Wheeling, Ill., which previously sold and installed iPourIt taps, said his company has sold its own self-pour systems to about 80 locations since 2013.
"In a location with 50 taps, you typically have to have around 20 to 30 employees," Goodman said. "With us, you can easily have 10 and not really be stretched."
Nick Petrillo, a research analyst at IBISWorld, said the concept may seem cool, but in practice might complicate the experience for some customers. For example, drinkers might make bad pours, or spill more often than a trained bartender, leaving the tap areas sticky and unsanitary.
"This technology seems like a total buzz kill," Petrillo said.
Chris Bright, president of Zpizza International, said that has not been his experience.
The franchise pizza chain recently opened a "Tap Room" location with iPourIt technology near Los Angeles International Airport and wants to sign leases for 20 new self-pour beer locations in Southern California by early next year.
Bright said the chain is eating the cost of bad pours, but the systems are still moneymakers because Zpizza can serve a lengthy beer menu, while not hiring an army of servers. And customers, he said, are more likely to order another beer if they don't have to stand in line again and pay at the register.
Customers like Chris Scales, who on a recent afternoon sipped a pale ale he poured at the location near airport, seem to bear that out.
"I don't like interacting with bartenders," he said. "They are always too busy."
The Texas Alcoholic Beverage Commission (TABC) believes in trained sellers and other staff. The social responsibility of these servers is very important to them. The control is through proper training and certification programs. The TABC Certification provides you with the necessary knowledge and techniques.
You learn the laws regulating sales/service of alcoholic beverages to minors, intoxicated persons, and non-members of a private club. It covers ways to protect yourself and your bar/restaurant from any liability. It explains the way alcohol affects your customers. It also covers refusing sale to customers who are asking for drinks above their limits or to minors.
You can complete this course from Serving Alcohol Inc. in partnership with Learn2Serve. They can enrol you online by filling a quick form. Complete your alcohol training entirely online in 2 to 4 hours or less using any digital device. You also get access to the course content for six months from your enrolment date.
The TABC Certification course incorporates decades or research directly from their staff who served the customers at bars for several years. Because of an experienced course designer. You get some great tips from the industry. There is a direct coordination of this institute with the sates. The key participating states are Arizona, Arkansas, California, Florida, Georgia, Washington DC, Texas, Pennsylvania and many others as well.
The Beverage Alcohol Sellers and Servers Education and Training (BASSET Training) is the program from the state of Illinois. It is an educational and training tool to sellers/servers of alcoholic beverages to serve responsibly and helps them to stay within the law.
As explained by the Illinois Government, the goals and objectives of this program are as listed below:
Train sellers and servers to engage in responsible alcohol service
Spot signs of intoxication and use intervention techniques;
Prevent DUIs and alcohol-related fatalities
Prevent alcoholic beverages sales to underage
Work on creating safer communities
Educate owners, managers, and staff about insurance and state laws
The important new is, by July 1, 2018, all servers in the bars/restaurants from this state are mandated to take the BASSET Training. It is a good idea to check local with local ordinances for exact training requirements. The local liquor retailers have are responsibility to be aware of state liquor laws, rules and regulations, and local ordinances. The training institute Serving Alcohol Inc. works all over the United States and provides the exact certification as required by each state. Check specific course details for discounts also.
The way weekend fun is important for everyone, the staff at the bars have their professional responsibility for alcohol sales and service. There are specific courses like Bartender Skills training, Alcohol Course, and Food Safety Courses. Let us see specifics of two of these courses in this blog post.
Manage Serving Environments
This program is for servers/bar staff related to the sale and consumption of alcohol. It includes details relates to selling alcohol to minors, intoxicated, possibly impaired, or poly-impaired persons. The intention of the course is to prevent possible impairment, underage drinking, and drunk driving. The program is also known as Alcohol Course.
In some states, there are primary requirements which one has to complete before taking this certification course. It is mandatory to many bars and restaurants to work as a staff with them. The industry experts collaborating with you is the most important part of this course. It relates to your learning and training desires and managing the establishments professionally. A certificate from a premier institute shows your commitment to your business and readiness for responsible business practices.
Along with the course, you get frequent updates to course material and a library of resources which is helpful for your business. Like any other professional course, you get a chance to collaborate with peers from different establishments. The course coordinators make sure you pass the certification.
Bartender Training Course
If you or your staff is engaged in serving drinks, this course is important. There are specific skills you need to gain to work in this industry. Some reputed training institute awards the Bartender Certification.
The course is available online and covers the topics listed below:
Beers, Wines, and Liquors
Searching and Interviewing for a Job
Along with the course material, you receive links to additional resources to improve your skills. The online course is flexible, and you can complete it at your convenience. The course requires constant updates as per latest trends and industry information. At the end of your review and completion of training material, you get a Bartender Certification.
Serving Alcohol Inc provides all information related to these courses, and you can complete some of them online and some of the classroom courses. The courses are available in almost all the states in the US, and the Institute has 40 years of experience in this field. You can choose the course by State, and Serving Alcohol Inc. will provide you the necessary training through expert trainers and a certificate which has a value nationwide.